Central coast trawl impact and recovery project: a collaborative fisheries study
Principal Investigator(s)
James Lindholm
California State University, Monterey Bay
Mary Gleason
The Nature Conservancy
Funding
Ocean Protection Council
MBNMS
CSUMB
The Nature Conservancy
Start Date
: September 01, 2008
The trawl impact and recovery study is a collaborative effort, bringing together TNC (owner of trawl permits), trawlers, and ROV researchers. This is part of a five-year study, which began in 2009. Funded by the Ocean Protection Council/State Coastal Conservancy, private funding, and in-kind match from partners, this project brings together a diverse group of stakeholders, including: CSU Monterey Bay, Marine Applied Research and Exploration (MARE), MBNMS, NMFS Northwest Science Center, West Coast Groundfish Observer Program, Moss Landing Marine Labs, and several local fishermen (T. Maricich, E. Ewing, D. Wainscott, M. Tognazzini, M. Leary and G. Fox).
Although it is clear that trawling impacts the seafloor, little is known about the nature of the impacts or the patterns of recovery in soft bottom habitats. These habitats make up almost 80% of the continental shelf in California. And while some might think that these deep, soft-bottom communities are vast wastelands of sand, silt or mud, in fact they are quite complex, often with a high level of biogenic structure.
The objective of this five-year project was to quantify the impacts and recovery rates in unconsolidated sediments under different levels of trawling effort to inform management of the fishery. Specifically, the parameters assessed were:
• Micro-habitat structure
• Mobile invertebrates
• Sedentary invertebrates
• Infauna
• Fishes
Using an actual fishing vessel, the Donna Kathleen, scientists and fisherman deployed trawls and an ROV to assess the changes in areas with and without trawling, then tracked how those areas changed through time, relative both to themselves and each other.
Monitoring Trends
Prior to the trawling effort, the control and experimental plots had similar percentages of bioturbated habitat (both about 80%).
Effects of the trawling 2 weeks and 6 months after the trawls are still pending analyses.
Study Parameters
Disturbance
Diversity
Habitat
Substrate characterization
Study Methods
Trawling occurred beyond California maritime limits off Point Buchon. Treatment plots were located along the inner edge of the RCA trawl closure. Sites were initially prospected using an ROV in September 2008. Baseline data were collected with the ROV and grab samples in September 2009. Grabs provided data on infaunal invertebrates and sediment grain size. The ROV provided views of seafloor microhabitats, epifaunal invertebrates, and benthic fishes.

Four plots were trawled and an additional four plots served as controls (they were not trawled). All eight were at similar depths (160-180 m deep) and consisted of a 300 m width and 1000 m length. Three 300-m long transects spanned the length of the plot. Multiple grab stations were also inside each plot.

Low intensity, directed trawling took place in October 2009 (trawled twice over the same area). In November 2009 ROV transects and grab samples were collected. This was also repeated in May 2010, 6 months after the trawling.


Figures and Images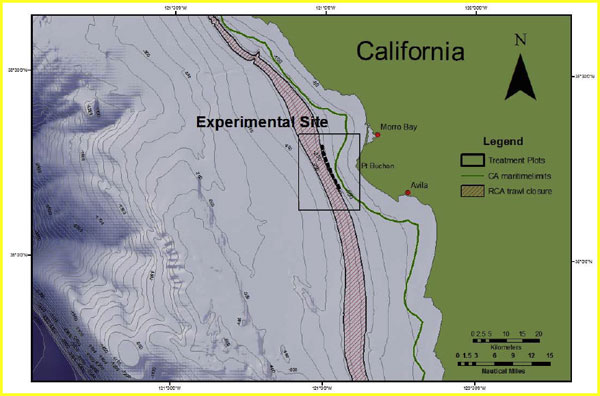 Figure 1. Map indicating the location of the 8 study plots.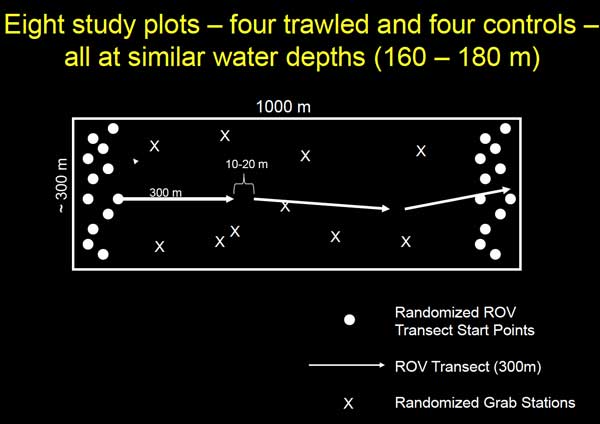 Figure 2. Design of sampling within the trawled plots. Controls were similar but lacked trawling.


Figure 3. Observed changes to-date between trawled and non-trawled plots.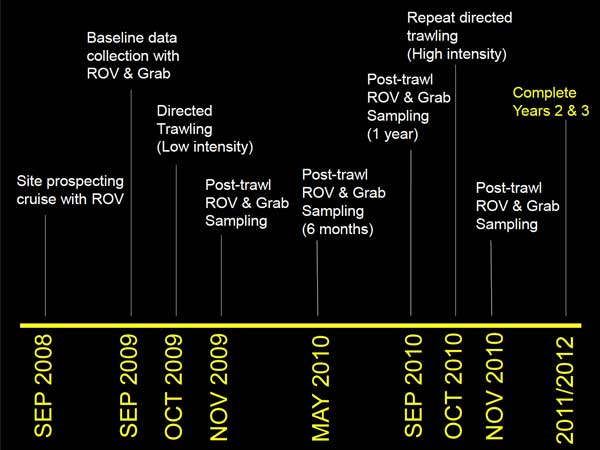 Figure 4. Timeline for the five-year project.


Documents
Lindholm et al. (2011)

Central Coast Trawl Impact and Recovery Study: 2009-2010 Summary Report. Report to the California Ocean Protection Council. March 7, 2011.
980 KB



Lindholm et al. (2012)

Central Coast Trawl Impact and Recovery Study: 2009-2011 Summary Report. Report to the California Ocean Protection Council. 31 January 2012.
PDF Paper 1.5 MB



Lindholm et al. (2013)

Lindholm J., Gleason M., Kline D., Clary, L., Rienecke S., Bell M, Kitaguchi, B. 2013. Central Coast Trawl Impact and Recovery Study: 2009-2012 Final Report. Report to the California Ocean Protection Council. January 31, 2013.
PDF paper 1.8 MB