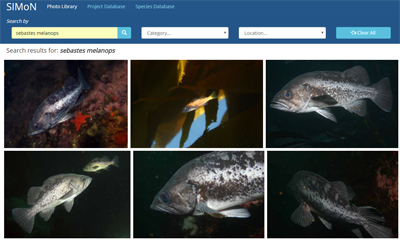 The SIMoN Photo Library contains digital images of species, habitats, locations, and issues of the Cordell Bank, Greater Farallones, and Monterey Bay National Marine Sanctuaries. Search capabilities allow you to find photos by location, species name, and much more.
---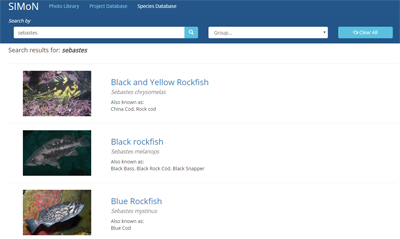 The SIMoN Species Database contains natural history information on a subset of the more commonly seen plants and animals that live in or seasonally travel through the sanctuaries along the coast of California. In addition to the distribution and habitat use of these species, facts on seasonal use, feeding behavior, reproduction, and conservation issues are also provided.
---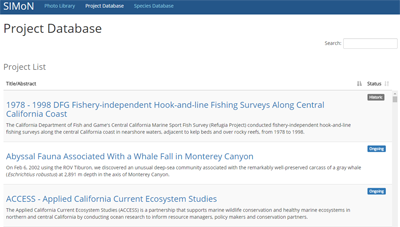 SIMoN Project Database is a list of all publicly available research and monitoring projects in the SIMoN database. Each project has information on the science questions being asked, the methods used, and summary results. Metadata are provided and in many cases links to the project and data portals, if they are available to the public.
---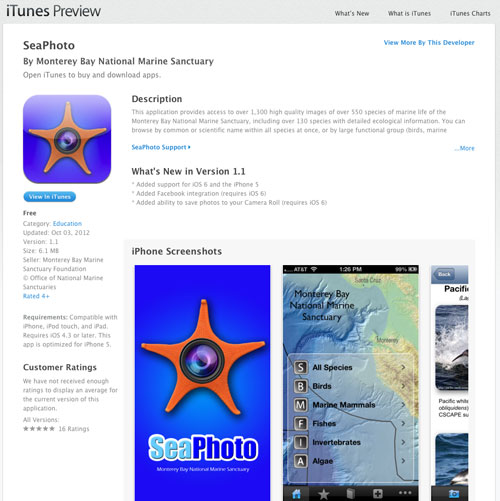 The SIMoN SeaPhoto App provides access to over 1,300 high quality images of over 550 species of marine life of the Monterey Bay National Marine Sanctuary, including over 130 species with detailed ecological information. You can browse by common or scientific name within all species at once, or by large functional group (birds, marine mammals, fishes, invertebrates, and algae).
---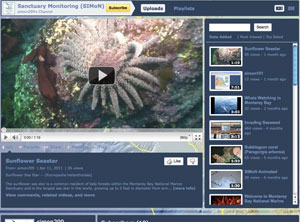 The SIMoN Video Library contains high definition video clips of species, habitats, and programs of the Monterey Bay National Marine Sanctuary.