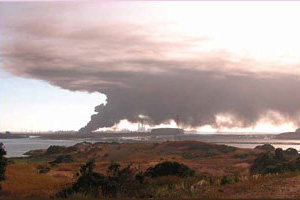 FACTS
The fire was adjacent to Elkhorn Slough, a nationally-recognized critical estuary.
Environmental concerns included water contamination and harm from smoke and ash.
The cool marine air kept the smoke high, lessening health and environmental impacts in Monterey Bay.
Bands of soot and ash reached to Soquel Hole in Monterey Bay, with dark water up to 18 km offshore.
On July 8, 2003 a fire broke out in an old fuel-oil tank at the Duke Energy power plant in Moss Landing. Crews were dismantling the tank for removal when 5.7 million liters of leftover oil sludge somehow ignited. There was a series of explosions as nearby propane tanks also caught fire. No one was hurt. The cool marine layer kept the smoke high in the air where it dissipated quickly, lessening environmental and human health impacts.
Environmental concerns for the nearby Elkhorn Slough included water contamination from oil and fire-suppressant foam, and impacts on wildlife due to smoke inhalation and ash deposition. It was determined that the rapid dissipation of the smoke reduced impacts on wildlife, and that the ash layer was very thin.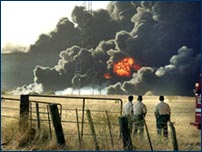 On the day of the fire, calls to SIMoN staff reported no smoke over the harbor, but dark or rusty colored "ribbons" in the water of the harbor were reported. Reports regarding the color and size of the ribbons varied. Calls from vessels at sea reported more than 15 bands of the reddish brown soot material in the water that were 1.8 to 3 meters wide and several kilometers long. The material may have been fallout from the smoke plume. From the harbor to Soquel Hole (roughly 18 km offshore, where Soquel Canyon meets the main Canyon axis), bands ranging from 1.2 m wide, 1600 m long, and 1.2 m deep covering half of the water were reported. The bands of soot began to dissipate approaching Soquel Hole, but the water was black. Past Soquel Hole there was no evidence of dark water.