Overview
SIMoN is an integrated, long-term program that seeks to identify and understand changes within sanctuaries managed by the Office of National Marine Sanctuaries. SIMoN provides resource managers with the information needed for effective decision-making and promotes a basic understanding of the complex and unique marine processes within the California Current ecosystem. By gathering summary metadata from on-going, recently completed and historic monitoring and research projects within sanctuaries, SIMoN facilitates the critical but often overlooked communication between researchers, resource managers, educators and the public.
The SIMoN web site (and associated database) provides sanctuary staff a powerful tool to quickly access summary information on hundreds of monitoring and research programs. In addition to the scientific information derived from projects taking place within sanctuaries, SIMoN provides digital images, video, maps and species-level natural history information. The Photo Library is constantly accessed for high-quality, public-domain images of the organisms and resources found within west coast national marine sanctuaries.
SIMoN Goals
Maintain a database that tracks current and historic monitoring programs and research projects relevant to sanctuary management
Integrate existing monitoring programs conducted in west coast regional sanctuaries to provide a synoptic overview of the marine ecosystem
Initiate basic surveys or characterizations of all sanctuary habitats and regions
Establish a series of long-term monitoring efforts to fill in critical information gaps
Initiate specific, question-driven monitoring efforts with fixed durations
Provide timely and pertinent information to managers and decision makers, the research community, and the general public via a web site and other venues
SIMoN exists due to the efforts and contributions of hundreds of partners and collaborators, including Federal and state agencies, universities and other academic institutions, and numerous non-governmental organizations.
Timeline
2017
New web interface launched in October (switch to https://)
2015
SeaPhoto now available on Android operating system, and still free!
2013
New interactive mapping technology launched in conjunction with Sanctuary Ecologically Significant Areas (SESA) map
First SIMoN project mini-documentary produced: Lost in the Deep is about a shipping container lost at sea and discovered at the bottom of Monterey Bay in 2007
2012
New iPhone app called SeaPhoto provides access to over 1,300 high quality images of over 550 species of marine life in MBNMS
SIMoN web site is overhauled with entire new look and format
2011
A new Historical Ecology Timeline that intertwines anthropogenic and natural histories within the MBNMS since the 1500s
Combined research and monitoring projects for CB, GF and MBNMS reaches 150 entries
SIMoN Photo Library reaches 4000 images online
2010
2009
2008
The expanded SIMoN web site is released, including information from Cordell Bank, Greater Farallones and Monterey Bay National Marine Sanctuaries
Species Database is launched!
2007
California Coastal and Marine Mapping Initiative launched
Development of a national registryof ocean observing programs
SIMoN Photo Library made available to the public online
Development of a web-based cruise planning tool for the National Marine Sanctuary Program, the Vessel Project Manager
2006
2005
Regional National Marine Sanctuary support to expand SIMoN to west coast sanctuaries
SIMoN program needs assessment completed for Channel Islands, Greater Farallones, Cordell Bank National Marine Sanctuaries
Environmental assessment and decision support tool developed for the State's marine reserve designation process
SIMoN releases a report by Stanford University researchers, providing the most detailed Elkhorn Slough hydrodynamic modeling effort to date
2004
Water quality map viewer released
SIMoN receives achievement award from National Marine Sanctuaries Program at annual Research Coordinators meeting
Beach COMBERS coordinator Hannah Nevins selected as a 2004 NOAA Environmental Hero
SIMoN web site recognized in NOAA's National Ocean Service Accomplishments report for 2003
SIMoN participates in West Coast Information Management and Delivery workshop hosted by National Marine Sanctuaries Program
2003
SIMoN Elkhorn Slough Projects Workshop
Database to store monitoring project information developed
Web Interfaces created to load and query SIMoN monitoring information
SIMoN website released
SIMoN releases a report that assessed intertidal habitat types and human uses at Point Pinos
SIMoN Scientists complete a nearshore sub-tidal characterization project, using the RV Shearwater in collaboration with PISCO completed
Monthly SIMoN dive operations initiated
2002
SIMoN received recognition from the National Marine Sanctuary Program with an Award for Science in Action
SIMoN office established Suite D, 299 Foam Street
SIMoN Letter of Agreement between MBNMS/Monterey Bay Sanctuary Foundation signed
SIMoN Memorandum of Understanding between Monterey Bay Sanctuary Foundation/Monterey Bay Aquarium completed
SIMoN Letter of Agreement MBNMS/Monterey Bay Aquarium signed
Release of the first set of SIMoN requests for proposals (RFPs), to monitor Elkhorn Slough and the Duke Moss Landing thermal outfall site
The SIMoN program is presented as a model for marine monitoring in South Korea, with a U.S. marine delegation
Management of the invasive Asian kelp Undaria pinnatifida begins in Monterey Harbor in collaboration with the City and the California Department of Fish and Game
2001
MBNMS SIMoN Science Committee established
Protocols developed for SIMoN proposal development and review, as well as roles for the SIMoN Science Committee
Funds incorporated into MBNMS base budget for SIMoN staff
$2 million grant for SIMoN from the David and Lucile Packard Foundation received
Endorsement of SIMoN at the Leadership Team meeting of the National Marine Sanctuary Program
2000
Summary table of monitoring efforts in Monterey Bay National Marine Sanctuary (MBNMS) completed
Workshop to develop SIMoN priorities and approaches
SIMoN Plan completed
$425,000 agreement made (Monterey Bay Sanctuary Foundation/MBNMS/Duke Energy N.A./State Water Resources Control Board) to fund SIMoN Moss Landing Thermal Plume Assessment
Letters of support for SIMoN received: MBNMS Research Activities Panel (RAP) (November, 2000); Monterey Bay Crescent Ocean Research Consortium (December, 2000); MBNMS Sanctuary Advisory Council (February, 2001)
$1 million agreement made (Conservation groups/Duke Energy N.A./Monterey Bay Sanctuary Foundation) to fund SIMoN monitoring of Elkhorn Slough
1999
SIMoN Advisory Committee initiated
Support SIMoN
Financial Support
The SIMoN program is funded by numerous sources. Federal and state government agencies have seen the value of its initiatives and provided program-specific funding. Individuals, corporations, and private foundations are also important SIMoN supporters.
Launched in September 2017, the Monterey Bay National Marine Sanctuary Foundation serves as a fiscal sponsor for SIMoN.
There are many donor options available with the Monterey Bay National Marine Sanctuary Foundation and the SIMoN program. In general, donations are either targeted toward general operating expenses or toward a specific program. In some instances, a donor identifies a need and the Foundation creates and implements a program to address it. In other cases, a donor or group of donors contribute to a restricted fund, targeted for a specific program.
Staff
Since the first SIMoN staff member was hired in 2002, SIMoN has had a fluctuating number of staff. Initially there were four positions: Director, Senior Scientist, Web Developer, and GIS Specialist. Over the years, these core positions evolved somewhat, although two of the original four hires are still with SIMoN. Additional members from the MBNMS Research Team participated, as did Sea Grant Fellows and several interns. Below are profiles of the current members of the SIMoN team.
Besides a core of three FTEs (DeVogelaere, Lonhart and King), there are several other members of the extended SIMoN family. Since 2002 this has included volunteers, interns, long-term and short-term contractors, as well as staff located at other sanctuaries. Many of the major accomplishments by SIMoN were the result of a group effort with these collaborators and partners (see partial list below).
SIMoN Staff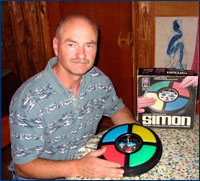 Andrew DeVogelaere, Ph.D.
Research Coordinator/SIMoN Program Director
(831) 647-4213
andrew.devogelaere@noaa.gov
Dr. DeVogelaere oversees the Sanctuary's Research Program and leads the the Sanctuary Integrated Monitoring Network (SIMoN) team. His job includes facilitating collaboration among over 20 research institutions in the region, providing technical information to decision makers and the Sanctuary staff, and initiating research on resource management issues.
He has been directly involved in a wide variety of research projects in habitats from the deep sea to estuaries. Dr. DeVogelaere's past work experience includes being an elected official as Commissioner for the Moss Landing Harbor District and Research Coordinator for the Elkhorn Slough National Estuarine Research Reserve. He earned a Bachelor of Arts degree in Biology from the University of California at Berkeley, a Master of Science degree in Marine Science from Moss Landing Marine Laboratories and a Doctorate degree in Biology from the University of California at Santa Cruz.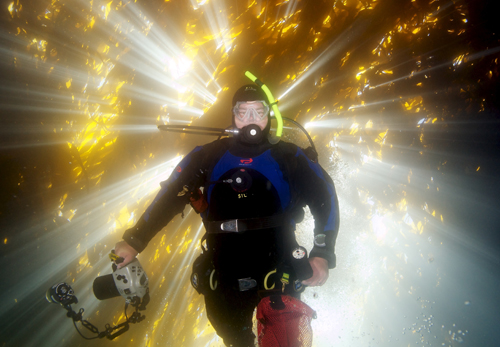 Steve I. Lonhart, Ph.D.
Research Specialist, Unit Diving Supervisor
(831) 420-3661
steve.lonhart@noaa.gov
Dr. Lonhart has worked as a marine ecologist for MBNMS since 2002. As the senior SIMoN Scientist, Steve is responsible for maintaining SIMoN's research and monitoring programs and implementing SIMoN's scientific goals to integrate existing monitoring programs within the sanctuary; supporting research and monitoring programs that address important resource management issues; and disseminating information to resource managers, researchers, educators, and the general public. He is also involved in several research and monitoring projects, including studies on the effectiveness of state marine protected areas, the ecological effects of invasive species, and the impact of nearshore processes of burial and exhumation on subtidal benthic communities.
Steve has a Bachelor of Science degree in Biology from UCLA, a Master of Science degree in Biology from California State University Long Beach, and a Doctorate in Biology from UC Santa Cruz. Though he has several interests in marine ecology, his scientific research has focused on invasion biology, kelp forest ecology, and marine invertebrate natural history, with an emphasis on marine gastropods.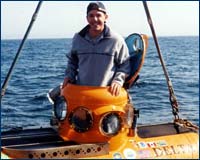 Chad King, M.S.
SIMoN GIS and Data Specialist
(831) 647-4248
chad.king@noaa.gov
Chad is responsible for the collection, analyses, and dissemination of spatial data for SIMoN. These data help integrate past and present monitoring programs within the Sanctuary, provide resource managers with decision making tools, and will be available to researchers, educators, students, and the general public. Chad actively participates in the field with Sanctuary and SIMoN research teams.
Chad earned a Bachelor of Science degree in Marine Biology at the University of California, Santa Cruz, and a Master of Science degree in Marine Science from Moss Landing Marine Laboratories. His research focused on how the genetics of an algal symbiont and substratum instability affect the reproductive behavior of a sea anemone from the Gulf of Mexico. Previous research focused on kelp forest ecology. Prior to SIMoN, he was with the California Department of Fish and Game as a GIS Analyst. His work there primarily addressed spatial analyses of commercial fishing pressure and the correlation between rugosity of the sea floor and rockfish abundance. This included the coordination of high-resolution map development of the sea floor, GPS navigation, and rockfish counts using SCUBA.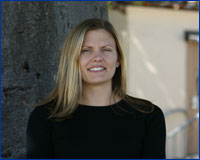 Jennifer Brown, Ph.D.
SIMoN Ecosystem Scientist
(415) 310-6764
jennifer.brown@noaa.gov
As the Ecosystem Scientist for the Sanctuary Integrated Monitoring Network (SIMoN), Jennifer Brown is responsible for developing and coordinating ecosystem assessments at both local and regional levels. These ecosystem models and condition reports help address resource management needs for integrated monitoring information. Additionally, Jennifer provides science support for the Marine Protected Areas MBNMS Action Plan through the development of data summaries and resource assessments.
Jennifer has a Bachelor of Science Degree in Biology from University of California at Los Angeles and a Doctorate Degree in Ecology and Evolutionary Biology from the University of California at Santa Cruz. Her research focused on evaluating the relative value of nearshore ecosystems at nursery grounds for juvenile flatfish. Other past projects focused on the Monterey Bay area include: 1) A Review of Marine Zones in the Monterey Bay National Marine Sanctuary which is part of the National Marine Sanctuary Conservation Series, 2) A plan for monitoring the fish assemblage in Elkhorn Slough prepared for the Elkhorn Slough National Research Reserve, and 3) a review of the Special Status Species that reside in or transit through the Monterey Bay National Marine Sanctuary.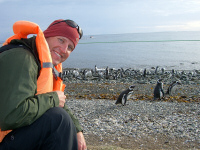 Scott Chapman
SIMoN Web Developer
scott.chapman@noaa.gov
Scott works with SIMoN's technical infrastructure. Using cutting-edge web technology, he is responsible for building and maintaining the SIMoN website, interfaces used to enter and manage monitoring information, and the SIMoN database.
Upon earning a Bachelor of Science in Electrical Engineering from San Jose State University, Scott worked as a software and quality assurance engineer for various software companies in Silicon Valley. Much of his development work utilized the latest web technologies to deliver interactive and dynamic content over the internet.
Scott is also a SCUBA instructor and has an MA in Exercise Physiology. Along with his part-time work for SIMoN, Scott is currently a full-time Dive Officer at the Monterey Bay Aquarium.
Sea Grant Fellows
The California Sea Grant Fellowship program is an education opportunity for graduate students interested in marine resources and how they are managed in California. Modeled after the Knauss Marine Policy Fellowship Program, the Fellowship program provides an opportunity to acquire on-the-job experience in the implementation of marine and coastal resource policies and programs in the state of California. Recent graduates with a Masters or PhD are matched with a host Federal or State agency for a 12-month paid fellowship.
The Monterey Bay National Marine Sanctuary has participated in this program for several years, and its Fellows have gone on to pursue careers in federal and state governments, consulting and education. This web page provides a history of the sanctuary's past Fellows, their educational background, examples of projects they completed while at the sanctuary and the jobs they pursued after their Fellowship. California Sea Grant is a statewide, multi-university program of marine research, extension and education services, administered by the University of California and headquartered at the Scripps Institution of Oceanography. The National Sea Grant College Program is part of the National Oceanic and Atmospheric Administration, U.S. Department of Commerce. For more information about the California Sea Grant Fellowship you can visit the Sea Grant webpage here.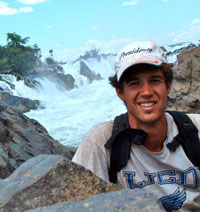 Oren Frey
2011 Sea Grant Fellow
M.A. International Environmental Policy from the Monterey Institute of International Studies
B.A. Environmental Studies with a specialization in Human Ecology, Middlebury College
Oren works closely with the MBNMS Research Team on a number of projects, including: a threats assessment for Davidson Seamount; authored a report on the phenomenon of shipping container loss; participated in at-sea deepwater characterization research; organized a collaborative fisheries research study on the hook and line fishery for California halibut in Monterey Bay; and is working to advance the creation of a community supported fishery (CSF) for the Monterey Bay area.
Oren earned a Bachelor of Arts degree in Environmental Studies with a specialization in Human Ecology from Middlebury College, and a Master of Arts degree in International Environmental Policy from the Monterey Institute of International Studies. His experience includes managing a marine education program for Naturalists at Large on Catalina Island. He has conducted research in the fields of ethnography, international environmental policy, and environmental economics.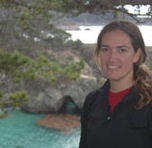 Kristine Faloon
2010 Sea Grant Fellow
Master of Environmental Science and Management, UC Santa Barbara
B.A. Biology with concentration in marine science, Boston University
Kristine worked on Monterey Bay National Marine Sanctuary (MBNMS) fish habitat materials; the Sanctuary Characterization and Image Display SCID interface for the Pacific Grove Natural History Museum Exhibit entitled 'World of Fishes'; field operations for shelf characterization and lost fishing gear cruises; authored content for Ocean Acidification and Sporadic Events on the SIMoN web site; and provided SCUBA support after NOAA Science Diver Certification.
Kristine completed her Fellowship in the summer of 2010 and was hired as a Marine Science and Oceanography instructor for Sea | Mester, a global semester at sea program for college students.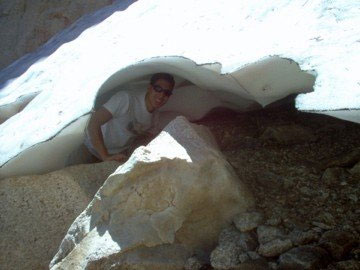 Steve Choy
2009 Sea Grant Fellow
Master of Environmental Science and Management, UC Santa Barbara
B.S. in Biology, University of Illinois at Urbana-Champaign
Steve organized the poster session for the 2009 Sanctuary Currents Symposium; investigated the effects of thermal discharge from Moss Landing Power Plant; studied the removal of the invasive Asian kelp Undaria pinnatifida from Monterey Harbor; and developed a web-based historical ecology timeline of marine resources within MBNMS.
Steve completed his Fellowship in the winter of 2009 and is a Fish and Wildlife Scientific Aid with the California Department of Fish and Game.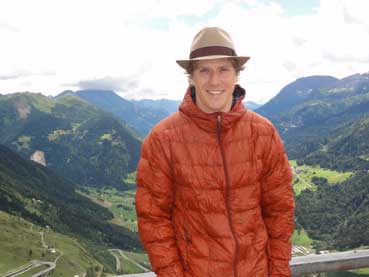 Hugo Selbie
2008 Sea Grant Fellow
Master of Marine Biodiversity and Conservation, Scripps Institution of Oceanography
B.S. in Marine Geography, Cardiff University, Wales, UK
Hugo sourced and compiled marine historical ecology data for MBNMS; created the first MBNMS marine historical ecology database; authored a technical report entitled 'Phase I: Historical Sources Survey Report' organized the 2008 Sanctuary Currents Symposium (>300 attendees); and contributed articles to the Sporadic Events Section of the SIMoN web site.
Hugo left MBNMS and became a Policy and Outreach Coordinator for the Partnership for Interdisciplinary Studies of Coastal Oceans (PISCO) (http://www.piscoweb.org) at the University of California, Santa Cruz. He is also a data analyst at NOAA's National Marine Protected Areas Center in Monterey, working as a contractor on the agency's ambitious MPA Inventory project, an effort to catalog and describe the nation's network of marine protected areas.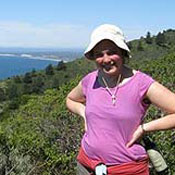 Amber Szoboszlai
2007 Sea Grant Fellow
M.S. in Biology, Moss Landing Marine Laboratories
B.A. in Liberal Arts, Hampshire College
Amber studied the role of facilitation in rocky intertidal seaweed communities while at MLML. This work highlighted how species interactions and species diversity can influence patterns of distribution of early life history stages of seaweeds.
At MBNMS, Amber conducted an evaluation of the Sanctuary Integrated Monitoring (SIMoN) Program and a compilation of black abalone data for an endangered species evaluation.
Amber is now a PhD student in the Graduate Group in Ecology at UC Davis. While working as a marine science policy fellow at the Monterey Bay Marine Sanctuary, she discovered my ambition to conduct research that can be integrated with marine policy and management. For her dissertation she is working to develop an integrated perspective of interactions between oyster aquaculture practices and eelgrass populations. Scientists currently have a poor understanding of how combined positive and negative effects of oyster aquaculture relate to eelgrass persistence and survival. By exploring how eelgrass responds to oyster aquaculture, her research will help to develop eelgrass sustainability guidelines for aquaculture businesses and to manage future expansion of aquaculture facilities.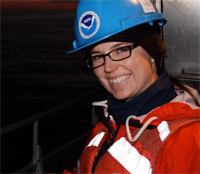 Lorraine Anglin
2006 Sea Grant Fellow
Master of Advanced Studies in Marine Biodiversity and Conservation, UC San Diego
B.A. in Biology, Willamette University
Lorraine developed towed camera sled data collection protocols, including associated hardware and software requirements, for long-term monitoring inside and outside of state Marine Protected Areas. She was also intimately involved with boating operations, particularly once the R/V FULMAR arrived to the West Coast Region.
After her Fellowship, Lorraine continued as a Field Operations Coordinator for the West Coast Region in the Office of National Marine Sanctuaries. The West Coast Regional office manages 12,682 square miles of marine protected areas around the Channel Islands, Cordell Bank, Greater Farallones, Monterey Bay and Olympic Coast. Each of the five west coast national marine sanctuaries is intimately connected not only with the others, but also to the entire coast from Alaska to Baja and to the far reaches of the world ocean via ocean currents. Lorraine serves as the Vessel Operations Coordinator, which includes the R/V FULMAR and R/V 4107, and also works with scheduling the NOAA Twin Otter airplane.

Becky (Stamski) MacKnight
2005 Sea Grant Fellow
M.S. in Earth Science, UC Santa Cruz
B.A. in Geology, Amherst College
Becky developed materials for the Coastal Erosion and Armoring Action Plan as part of the Management Plan Review process for MBNMS; created GIS-based analysis tools for water quality monitoring associated with the Elkhorn Slough; wrote and edited SIMoN website content, particularly for the geology sections; published a NOAA Marine Sanctuaries Conservation Series report on coastal protection structures in the MBNMS: http://sanctuaries.noaa.gov/special/con_coast/stamski.pdf.
Becky is a geologist, and is currently an Environmental Scientist at the Horsley Witten Group, an environmental science, engineering, and planning company in Massachusetts.

Michele Jacobi
1997 Sea Grant Fellow
M.S. in Marine Science, Moss Landing Marine Laboratories
B.S. in Biology and Marine Science, University of San Diego
Michele wrote an assessment of the impacts of anthropogenic sound in the ocean and improved the MBNMS web site.
Michele is now an environmental scientist for the National Oceanic and Atmospheric Administration (NOAA) Office of Response and Restoration (OR&R) in Seattle, WA. As part of the Technical Support Division she has experience regarding eco-risk assessment reviews, chemical data analysis, field sampling design, and the development of watershed database and GIS mapping projects. Michele is currently on assignment to the Coastal Response Research Center and is applying the concept of a watershed database and mapping project towards emergency planning and response for the Portsmouth Harbor Area.
NOAA Scholars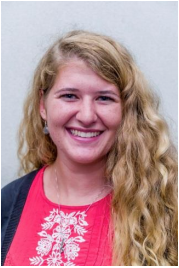 2017  Emily Colson, Ernest F. Hollings Undergraduate Scholarship
Emily is a rising senior at Eckerd College in St. Petersburg, Florida majoring in marine science, with a focus on marine biology, and minoring in psychology and chemistry. Emily spent her summer working with Dr. Steve Lonhart at NOAA's Monterey Bay National Marine Sanctuary. The Sanctuary Integrated Monitoring Network (SIMoN) website has a speciesdatabase that provides natural history information on 170 species found in the sanctuary. The goal of this project was to expand the Species Database, and in particular add information about special status species (e.g., those listed as threatened or endangered under the Endangered Species Act). Emily completed over 70 entries that will be published on the Species Database website, which is currently being updated. Expanding the database increases valuable (and free!) knowledge about the species often observed by the public while visiting sanctuaries along the California coast.
Through her summer project, Emily was able to experience a new coast and learn about the species that are critical to the west coast environments. Emily also was able to follow her passion of educating the public about problems currently facing the world's oceans.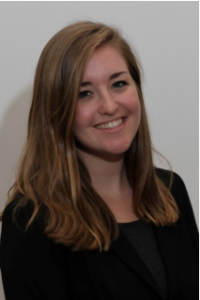 2016  Angela Korabik, Ernest F. Hollings Undergraduate Scholarship
Angie graduated from the University of South Carolina, Columbia, with a degree in ecology. She studied Undaria pinnatifida, a brown alga native to northeast Asia, that invaded Monterey Harbor in 2001. Undaria has become a problem across the world since the 1980s, having established in multiple locations, including the Mediterranean, Australia, New Zealand, Tasmania, and Argentina. In this project, we examined improved methods of removal that may reduce the time and effort required to manage the Undaria population of Monterey Harbor. We conducted an experiment in Monterey Harbor during the months of June and July (2016) to measure growth rates of Undaria individuals under two different treatments. Five sets of individuals from three age classes (young, juvenile, and mature) were cut either above or below the meristem, and were consequently measured twice a week for the duration of the experiment. Results show that Undaria growth is arrested in portions separated from the meristem, while portions with the meristem still intact are able to proceed to reproductive maturity. Additionally, data from removal efforts from 2002 to 2009 were analyzed to determine spatial trends in Undaria appearance. By assessing past trends in Undaria appearances and analyzing the best way to remove Undaria, future removal efforts can be streamlined and accelerated to maintain low densities in Monterey harbor, protect existing microhabitats in the harbor, and possibly slow the rate of spread beyond the harbor.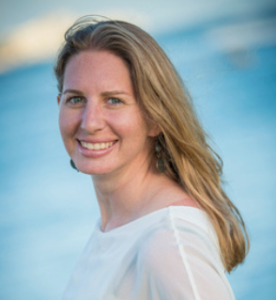 2014  Nyssa Silbiger, Ph.D., Dr. Nancy Foster Scholarship
Dr. Nyssa Silbiger completed her B.S. in Biology at Florida State University, her M.S. in Marine Science at the University of North Carolina at Chapel Hill, and her PhD in Zoology at the University of Hawai'i at Mānoa (2015). During her tenure as a Nancy Foster Scholar she worked in the Papahānaumokuākea Marine National Monument and other sites throughout the Hawaiian Islands to characterize accretion and erosion on coral reefs and examine how these processes are modulated by climate change in the context of both natural variability and simulated future conditions. Nyssa also had the opportunity to collaborate with the Monterey Bay National Marine Sanctuary office during her program collaboration as a Foster Scholar. Nyssa is currently ann Assistant Professor in the Biology Department at California State University, Northridge.
Students & Interns
SIMoN staff members are often asked to advise undergraduate capstone and senior theses, to supervise funded summer internships, and to serve as external members on graduate thesis and dissertation committees. In addition, some graduate students sought guidance from and collaborated with SIMoN staff while conducting their research within the sanctuary. Below are some of these undergraduate and graduate students (and the staff advisor, as applicable).
In progress. Gregory Bongey, MS student, MLML. (Lonhart on thesis committee)
In progress. Devona Yates, MS student, MLML. (Lonhart on thesis committee)
2017    Heidi Heigl, post-BS from Ludwig-Maximilians-Universität München. Summer volunteer internship.  (Lonhart advisor)
2017    Olivia Rhoades, Ph.D., UC Davis. "Causes and consequences of behavioral trait variation for marine community dynamics."  (Lonhart research collaborator)
2016    Stephen Loiacono, MS, MLML. "Effects of substrate warming on sessile marine invertebrate communities in Monterey Bay, California." (Lonhart on thesis committee)
2015    Kent Susick, CSU Council on Ocean Affairs, Science & Technology (COAST), SJSU. "Sanctuary Ecologically Significant Areas (SESAs) Quick Look Reports." (DeVogelaere summer intern advisor)
2014    Emily Aiken, Senior Capstone, Marine Science, CSUMB. "How the native crab (Metacarcinus gracilis) affects the spread of the invasive bryozoan (Watersipora subtorquata)." (Lonhart on capstone committee)
2012-14   Oren Frey, Research Intern, MBNMS. "Site Damage Assessment: Sunken F/V Stikine"; "A Profile of the Hook and Line Fishery for California Halibut in Monterey Bay, California: Learning from Fishermen through Collaborative Research"; "A Review of Resource Management Strategies for Protection of Seamounts"; "Deep-sea Faunal Communities Associated with a Lost Intermodal Shipping Container in the Monterey Bay National Marine Sanctuary, CA"; and "The Containerized Shipping Industry and the Phenomenon of Containers Lost at Sea." (DeVogelaere research collaborator and advisor)
2012    Brynn Hooton-Kaufman, MS, MLML."Associations between fishes and the invasive kelp Undaria pinnatifida in Monterey Harbor, Monterey, CA." (Lonhart on thesis committee)
2012    Ashley Knight, MS, CSUMB.  "The distribution of demersal fishes over heterogenous seafloor habitats: an application of landscape ecology to video imagery collected in a central California state marine conservation area." (DeVogelaere on thesis committee)
2011    Shae Mitchell, MS, CSUMB. "Lottia gigantea size and density differences in rocky intertidal communities near Monterey Bay, California." (Lonhart on thesis committee)
2011    Megan Gunvalson, MS, SJSU. "Reducing disturbances to marine mammals by kayakers in the Monterey Bay." (Lonhart on thesis committee)
2010    Ryan Rezek, MA, Scripps.  "Investigation of the invasive kelp Undaria pinnatifida: dispersal mechanisms and methods for controlling zoospores." (Lonhart on thesis committee)
2010    Sarah Traiger, Senior Thesis, UCSC. "Community effects of an invasive bryozoan, Watersipora subtorquata, in the Monterey harbor." (Lonhart research collaborator)
2009     Adam Curtis, Senior Capstone, ESSP, CSUMB. "Monterey Bay kelp forests: full of diversity!" (Lonhart advisor)
2009    Kayleigh Hughes, MS, Bangor University. "A survey of the rocky intertidal at Point Pinos, California. Part I: A temporal study, separating anthropogenic factors from natural fluctuations." (Lonhart research collaborator)
2008    Gabriel Rodriguez, Senior Capstone, ESSP, CSUMB. "Growth rates and disturbance response of the invasive kelp, Undaria pinnatifida in Monterey Harbor, CA." (Lonhart on capstone committee)
2007    Diana Kohtio, MS, MLML. "Population biology of the invasive kelp Undaria pinnatifida in central California." (Lonhart on thesis committee)