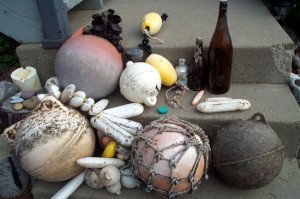 Residents of San Luis Obispo and Monterey Counties have reported unusual quantities of foreign marine debris coming ashore on south-facing beaches and coves. The debris began washing ashore in late March 2006. By late April, most of the beaches were clear.
Hundreds of items have been collected, including fishing floats of all shapes and sizes, plastic and glass beverage containers, and some polystyrene buoys. Over a dozen hand-blown glass fishing floats have also been recovered, some with nets attached.
Many of the floats and bottles have Asian printing on them. Some have been identified as Sino-Korean symbols, while others are Japanese.
Benjamin Boer and his wife Michele Roest collected nearly a hundred floats in two days from San Simeon Cove and Arroyo Laguna. Many of the plastic floats were covered with barnacles. A few had colonies of live mussels on them, suggesting they had been in the water for quite some time before they landed on the beach.
Marine biologist Brian Hatfield said in his 20 years of living and working at Piedras Blancas he has "never seen so much Asian stuff, and I have never before found a glass ball float around here." (1)
It is unclear where the debris has come from or why it came ashore at this time. Some scientists have conjectured about long-sunken fishing vessels and items trapped for decades in the North Pacific Gyre about 1,000 miles off central California. Whale researcher Richard Rowlette describes the gyre as "an absolute dead zone for marine mammals and sea birds. All manner of flotsam gets caught up … and just 'lives' out there, going round and round and round for years and decades until some persistent weather pattern comes along," like the one the Central Coast is experiencing, which can redirect debris into the coastal current. Another observer speculated the floats may have been sucked into the ocean currents by the December 2003 tsunami in the south Pacific Ocean.
Hatfield said his best guess is the sea's delivery "has something to do with the long-duration southeast wind we've had — and are still having — late in the rainy season, and unusual ocean currents.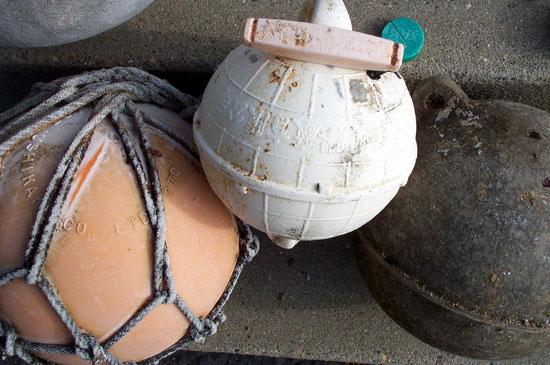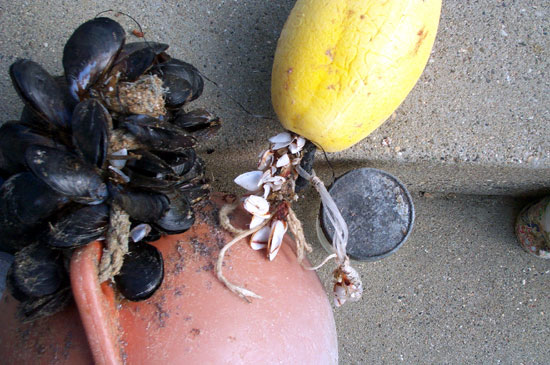 (1) Source: The San Luis Obispo Tribune News, April 16, 2006.  http://www.sanluisobispo.com