FACTS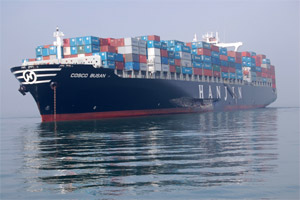 On November 7th 2007, the M/V Cosco Busan hit the base tower of the San Francisco – Oakland Bay Bridge's western span in San Francisco Bay, spilling 58,000 gallons of fuel oil
The spill escaped the bay and its sheen could be seen as far north as Point Reyes although the primary affected beaches outside of the Bay are surrounding the Point Bonita area.
The oil that made it outside of the Bay's entrance traveled north to Point Reyes and south to Pacifica just north of San Pedro Point.
This is the biggest spill since 1996 when 40,000 gallons of oil was spilled at San Francisco Dry-dock Inc.
On November 7th 2007, the M/V (Merchant Vessel) Cosco Busan, an 810 ft long container vessel hit the base tower of the San Francisco – Oakland Bay Bridge's western span as it made its way out of San Francisco Bay. The collision tore open a fuel tank, spilling approximately 58,000 gallons of fuel oil into San Francisco Bay.
The spill fouled miles of coastline in the surrounding areas creating drifts of fuel and bunker tar on portions of the bay and was found to the north in patches from the Gulf of the Farallones to Point Reyes near Bodega Bay. The oil south of the Bays entrance traveled down to Pacifica, just north of San Pedro Point.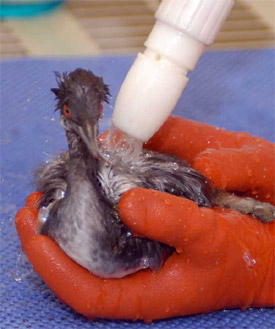 The ecological effects of the spill on the local habitats and wildlife have the potential to seriously damage local ecosystems including birds, mammal and benthic (bottom) dwelling organisms including those used for human consumption.
The spill from the Cosco Busan is the largest in Bay area since the 1988 Shell Oil spill where a broken pipeline leaked 365,000 gallons of crude oil into the Carquinez Strait.
A spill of similar proportions occurred in 1996 when the cargo ship Cape Mohican, that was undergoing repair at the San Francisco Dry-dock Inc., dumped 40,000 gallons of heavy fuel oil into the Bay off San Francisco's southeastern waterfront, fouling the shore from Candlestick Point to the Golden Gate. The oil hit Angel and Alcatraz Islands, went as far north as the Richmond-San Rafael Bridge, and traveled west out of the Golden Gate a mile or two past the coastline.
NOAA's National Marine Sanctuary Program staff and Beach Watch volunteers participated in wildlife surveys both north and south of the Golden Gate in an effort to assess the spills impacts on the areas marine and bird life as well as rescue any oiled animals if necessary. The public is asked to report any injured and/or oiled wildlife and not to approach or handle, as there may be safety concerns.
In 2011, a $36.8 million Natural Resource Damages (NRD) settlement was awarded to state and federal trustee agencies to restore natural resources and improve recreational opportunities in areas affected by the Cosco Busan oil spill.