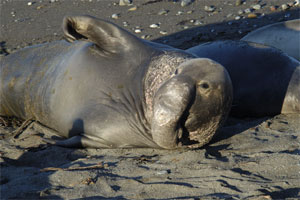 In May 2008 three elephant seals were shot in the head at the Piedras Blancas rookery 12 miles north of Cambria. The incident marks the first time a northern elephant seal was shot and killed at the site. The dead animals were 2-3 years old and weighed from 600 to 1000 pounds.
Northern elephant seals are protected under the Marine Mammal Protection Act. Merely disturbing one is a federal offense; injuring or killing one can be prosecuted as a misdemeanor, with civil penalties of up to $12,000 and criminal fines of up to $20,000 and imprisonment. A reward of up to $5,000 has been offered to anyone providing information leading to the arrest of the culprit(s).
The Piedras Blancas northern elephant seal rookery is located off Highway 1 at Hearst San Simeon State Park. The area has been fenced off to protect curious onlookers from the seemingly sluggish but massive marine mammals. Each year hundreds of thousands of travelers pull off Highway 1 to observe the seals from viewing platforms staffed by docents from the volunteer group, Friends of the Elephant Seal.
During the 19th century, the northern elephant seal, Mirounga angustirostris, was hunted extensively for its oil-rich blubber. The species was believed extinct by the early 20th century. A relict population of fewer than 100 animals survived on an island off Baja California. All northern elephant seals alive today are descended from that small group.
The area was first identified as a rookery in January 1991, when the first pup was born on a beach just south of the Piedras Blancas Light Station. The population grew rapidly and reached a reproductive peak in 2006, when nearly 4,000 pups were born. Pup counts for 2007 were slightly lower than 2006. It is not clear if the population is reaching its carrying capacity, or if it will continue to grow, expanding onto other beaches in central California.
The breeding population peaks from December through March, when pups are born, and males and females mate. Peak numbers during breeding season reported an estimated 15,000 animals in 2008. In December large males (weighing up to 4,000 lbs.) establish territories, often fighting for prime real estate on the beach. Females arrive shortly thereafter, give birth within a week, and nurse the pups for three to four weeks. They abruptly wean their pups and mate, abandoning their pups, and return to the sea to feed. Males and females return to the breeding and pupping areas later in the year to molt. An April 2008 census reported 2,101 of the mammals at the rookery, mostly molting females and juveniles.
Brian Hatfield, a Wildlife Biologist with the U.S. Geological Survey, is stationed at Piedras Blancas and has studied the northern elephant seal rookery since its inception. Scientists believe that in pre-historic times northern elephant seals avoided breeding on the mainland because pups would have been vulnerable to predation by grizzly bears, wolves and other large carnivores. After these terrestrial predators were over exploited by humans and northern elephant seals recovered from the effects of the fur trade era, the expanding population established mainland rookeries. Biologists cannot predict how large the population will grow or where new rookeries will develop. But now as their population continues to increase, it appears that some humans are, once again, posing a threat.