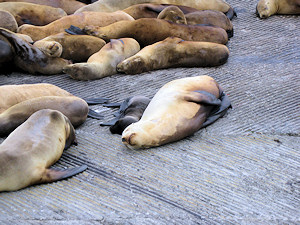 Figure 1.
A newborn pup resting next to its mother on the boat ramp at the Monterey Coast Guard jetty/breakwater on June 7, 2010. Photo: C. Young.
The first half of 2010 has included an unusually high number of prematurely born California sea lions Zalophus californianus. Females normally give birth on remote islands off the coast of southern California, well away from inhabited areas. This year, however, pups were born in crowded public places, such as the boat ramp at the breakwater in Monterey (Figure 1), Pier 39 in San Francisco, and under the Beach and Boardwalk in Santa Cruz. Not only are these locations bustling with people, they also are far north of normal pupping areas.
During the summer, California sea lions normally give birth in dense aggregations (called rookeries) in southern California, stretching from the California Channel Islands to Baja California, Mexico. Pups nurse for 6-10 months, but may go to sea with their mothers to learn to hunt fish prior to being completely weaned. Pups are not normally born in Monterey Bay.
Beginning in the spring of 2010 female California sea lions were aborting pups along the central coast of California. Pat Morris (UCSC mammal researcher) has documented ~300 premature California sea lion pup carcasses on Año Nuevo Island during the first half of 2010. Normally Pat sees ~20 such pups on Año Nuevo during this time.
In the past few weeks, however, females have been giving birth to full-term pups along the central California coast. Although many of these pups have been abandoned, some were seen nursing shortly after birth (Figure 2) and may survive.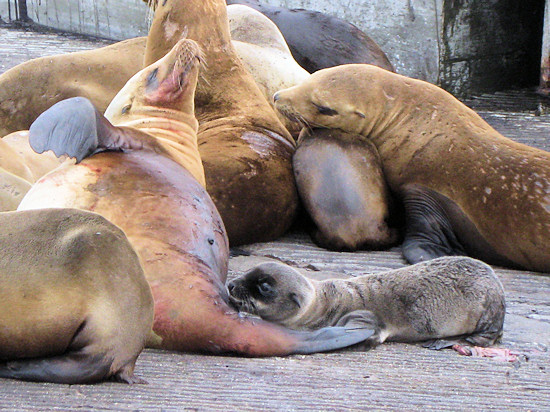 Figure 2.
A newborn California sea lion pup nursing shortly after birth. Notice blood on female and umbilicus still attached to pup. Photo was taken June 8, 2010 at the Monterey breakwater launch ramp. Photo: C. Young.
BeachCOMBERS and the marine mammal stranding network have documented the influx of California sea lion pups in Monterey and Santa Cruz counties, and the situation may be considered an unusual mortality event (UME). UMEs occur when the number of carcasses exceeds the threshold level (TL), which has been established by long-term beach survey data during 1997-2007.
Recent survey data indicate unusual California sea lion mortality events in April and June 2010 (Figure 3). Preliminary results from June 2010 beach surveys indicate 41% of strandings were pups (California sea lions less than 100 cm in length, n=27).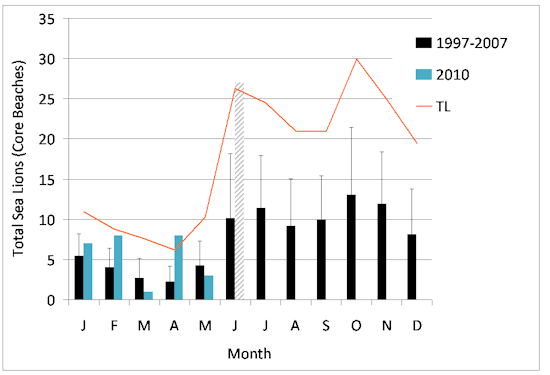 Figure 3.
Total number of dead stranded California sea lions observed during beach surveys. Black bars indicate long-term averages, blue bars indicate counts from 2010 (Jan.-May), the striped bar indicates preliminary counts from June 2010 (not all datasheets have been received), and the orange line represents the trend-line for "abnormal" numbers of California sea lion strandings. Counts above the trend-line indicate an unusual mortality event.
Data from The Marine Mammal Center indicate that live strandings of California sea lions in Monterey and Santa Cruz counties are similar in number to last year, but still far greater than normal (Fig. 4). The number of live and dead strandings of California sea lions is greater in Monterey County than Santa Cruz County through June 2010 (TMMC, unpublished data and Robin Dunkin-McClenahan, personal communication).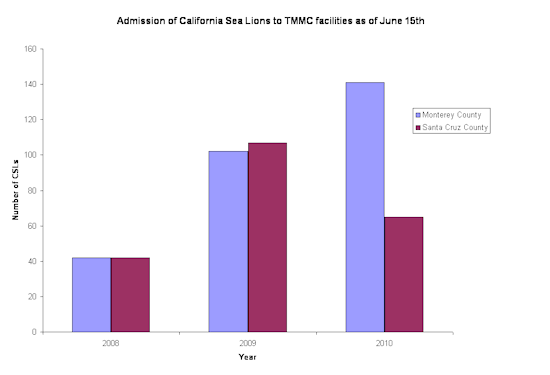 Figure 4.
Total numbers of live California sea lions (all age classes) from Monterey and Santa Cruz counties admitted to The Marine Mammal Center as of June 15th for the years 2008, 2009, and 2010. Unpublished data; courtesy of TMMC.
The total number of stranded California sea lion pups examined in Monterey County through May 2010 already matches the total number examined during 2009 and greatly exceeds the number of pups examined during the previous four years (Fig. 5).
Figure 5.
California sea lion strandings (dead) reported in Monterey County to the NOAA Marine Mammal Stranding Network at Moss Landing Marine Laboratories. Note 2010 data include only a partial year (January to May).
The pupping patterns of 2010 may be explained by the El Niño-like oceanographic conditions we are experiencing. El Niño events are characterized by warmer coastal waters, which drive California sea lion prey (anchovies, sardines, etc.) greater distances from shore. Pregnant females and yearlings (1-year-olds) may not have the energy reserves to swim the extra distance to acquire food, resulting in females giving birth before reaching normal pupping areas, females abandoning pups because of diminished nutritional condition, and emaciation/starvation of yearlings. Reports of dead stranded yearlings also are greater than normal for 2009 and 2010. Postmortem examinations of California sea lions at The Marine Mammal Center have revealed malnutrition as a primary cause of death in many cases (F. Gulland, personal communication).
Domoic acid (DA) poisoning may also be a contributing factor in the unusual pupping patterns during 2010. Domoic acid is a neurotoxin produced by the diatom Pseudo-nitzschia spp. It accumulates in top-level predators during harmful algal blooms, and causes disorientation, lethargy, and seizures in California sea lions. These neurological symptoms prevent normal foraging, causing California sea lions to become severely emaciated, sometimes resulting in death. Domoic acid may be transferred to unborn pups in pregnant females and has been associated with premature births in California sea lions (Brodie et al. 2006, Goldstein et al. 2009).
We may not know exactly what is causing the unusual California sea lion pupping patterns in the Monterey Bay National Marine Sanctuary this year, but by documenting marine mammal strandings we can better track changes in the ecosystem. Information for reporting live and dead marine mammal strandings is listed below.
Related Links:
What to do if you see a dead/live stranded marine mammal
About Sea Lions
About BeachCOMBERS
About domic acid
Reference:
Compiled by Colleen Young (BeachCOMBERS). Unpublished data provided by Stephanie Kennedy and Jim Harvey (MLML), Pat Morris (UCSC), Hannah Nevins (MWVCRC/MLML) and Denise Greig, Frances Gulland, and Shelbi Stoudt (TMMC). Contact: cyoung@mlml.calstate.edu