During the late summer of 2010, numerous small fishing boats could be seen on the horizon in Monterey Bay fishing for white seabass.  The fish is prized for its large size and good flavor.  The frequency of fish caught north of Point Conception in recent years has increased; however, the pounds landed still represent less than 20% of the total catch in California.
The white seabass (Atractoscion nobilis) is the largest member of the croaker family (Sciaenidae) in California.  It is also commonly referred to as king croaker, white weakfish, or seatrout (juveniles).  The white seabass occurs over the continental shelf of the eastern north Pacific, ranging from Magdelena Bay, Baja California, Mexico to the San Francisco area, and inhabit the northern Gulf of California in Mexico. During the strong El Niño of 1957-1959, seabass were reported as far north as Juneau, Alaska and British Columbia, Canada.  However, it occurs primarily between Point Conception and San Diego.
Young-of-the-year white seabass, inhabit the open coast, and associate with drifting algae in shallow sandy areas just outside the surf zone (12 to 30 feet).  Young juveniles move into protected bays where they utilize eelgrass communities for cover and forage.  Older juveniles can be found in kelp beds and in protected bays.  As white seabass mature, they are commonly found schooling near rocky bottom features and around kelp beds along the coast and offshore islands.  Adults are also known to school several miles offshore.  Adult white seabass eat Pacific mackerel, Pacific sardines, squid, pelagic red crabs, and Pacific herring.
Commercial and recreational fisheries for white seabass in California have existed since the 1890s.  The fisheries occur primarily in southern California but in some years may extend to central California.  Sport fishermen catch white seabass using hook-and-line, and more recently by spearfishing.  The commercial fisheries primarily use drift gill nets, but some fish are taken on hook-and-line when large seabass are available.  The sport angling record is a 78-pound fish caught in Monterey Bay on April 4, 2002 by David L. Sternberg.  The sport diving record is for a 93-pound, 4-ounce fish caught in Malibu on September 17, 2007 by Bill Ernst while freediving.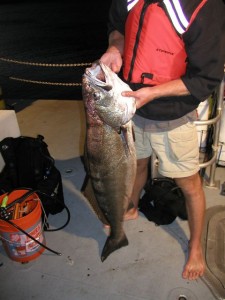 Regulations covering white seabass have been in effect since 1931, and have included a minimum size limit, closed seasons, bag limits, and fishing gear restrictions.  Such regulations are in effect today, with slight variations.  In 2010, the legal size limit for white seabass is 28 inches (about seven pounds).  Consumer demand for white seabass has always commanded relatively high prices.  In 2006, commercial fishermen were typically paid $3.00 per pound for whole fish.  In retail markets, fish are sold fresh, primarily as fillets and steaks.
White seabass populations were in decline from the 1960s through the 1980s, and low population levels continued into the mid to late 1990s.  Concern over the decline in white seabass landings and conflict between recreational and commercial fishermen over this resource resulted in legislation requiring the development of a white seabass fisheries management plan (WSFMP).  The Fish and Game Commission adopted the White Seabass Fishery Management Plan (WSFMP) in June 2002.  The current recovery is occurring under management designed to provide for moderate harvests while protecting young white seabass and spawning adults through seasonal closures, gear provisions, and size and bag limits.  The WSFMP includes a provision for annual monitoring and assessment of the white seabass commercial and recreational fisheries.  This new management effort, including supplementing the wild population with hatchery-raised fish, has helped California's population recover.  In March 2003, the Monterey Bay Aquarium Seafood Watch program suggested the white seabass should be placed in the BEST CHOICES category of the Seafood Watch West Coast Card.
References:
Crooke, S. and A. Louie. 2008. White Seabass. In: K. Barsky (editor), Status of the Fisheries Report – An Update through 2006. Report to the Fish and Game Commission, prepared by the California Department of Fish and Game, Marine Region, June 2008. World Wide Web electronic publication, [http://www.dfg.ca.gov/marine/status/]. Accessed [Sept. 2010].
Stevens, M.M. 2003. White Seabass, Atractoscion nobilis. Seafood Watch, Seafood Report, Monterey Bay Aquarium, Final Report, 21 March 2003. 14pp. World Wide Web electronic publication,
http://www.montereybayaquarium.org/cr/SeafoodWatch/web/sfw_factsheet.aspx?fid=86. Accessed [Sept. 2010].
Vojkovich, M. and S. Crooke. 2001. White Seabass.  In: W.S. Leet, C.M. Dewees, R. Klingbeil, and E.J. Larson (editors), California's Marine Living Resources: A Status Report. California Department of Fish and Game, ANR Publication SG01-11, Oakland, California. p. 206-208.
Related Links:
CDFG: State Finfish Management Project — White Seabass:  http://www.dfg.ca.gov/marine/sfmp/whiteseabass.asp
CDFG: Marine Sportfish Identification – Croakers:  http://www.dfg.ca.gov/marine/mspcont3.asp#seabass
CDFG: Fishery Regs:  http://www.dfg.ca.gov/marine/mapregs4.asp#whiteseabass_open
Fishbase:  http://www.fishbase.org/Summary/SpeciesSummary.php?id=3578
MBA Seafood Watch:  http://www.montereybayaquarium.org/cr/SeafoodWatch/web/sfw_factsheet.aspx?gid=37