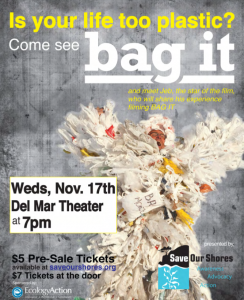 When: Wednesday, November 17th, from 7 pm – 9 pm
Where: Del Mar Theater on Pacific Avenue in downtown Santa Cruz
Join Save Our Shores and your local, blue community for a Santa Cruz movie event you won't want to miss: Bag It! You'll have a chance to meet the film's star, Jeb Berrier, who will share his experience filming Bag It.
Bag It follows Jeb Berrier as he navigates our plastic world & takes a closer look at our cultural love affair with plastics. Jeb's journey starts with simple questions. And what he learns quickly grows far beyond plastic bags.
Bag It just won 'Best of Festival' at the BLUE Ocean Film Festival in Monterey, as well as numerous other awards at the Mountain Film, Ashland, and Wild & Scenic Film Festivals. This film has been gaining a lot of attention around the nation, and Santa Cruz is up next, so don't miss out! This film directly supports the Save Our Shores campaigns to reduce plastic pollution and consumption, change behavioral patterns toward reusable Bring Your Own alternatives, and stop plastic pollution at the source. Tickets are $5 online up to November 15th, and then $7 at the door.
Come out to celebrate and rally with your community on the night of Wednesday, November 17th at the historic Del Mar Theater in downtown Santa Cruz. For more information, contact media@saveourshores.org.
Hosted by Save Our Shores, Sponsored by Ecology Action, and the ongoing support of New Leaf Community Markets and The Dream Inn.
The Bag It event page with online ticketing is here.