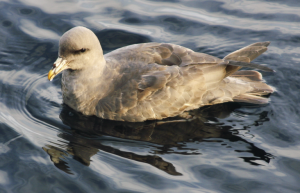 In November 2010, the Monterey Bay National Marine Sanctuary's BeachCOMBERS beach survey program documented increased numbers of Northern Fulmars (Fulmarus glacialis) washing up dead on beaches in Monterey, Santa Cruz, and San Luis Obispo counties.  A similar incident occurred in October-November 2003 and is documented here.
Preliminary Report: Winter Wreck of Northern Fulmar (Fulmarus glacialis) in central CA  (November 29, 2010)
Hannah Nevins (1) (2), Colleen Young (1), Erica Donnelly (2) and Rebecca Duerr (3)
Fulmars are regular winter migrants in central CA, yet in some years large numbers strand on beaches (called a "wreck"). Documented wreck events of significant proportion in this area occurred in the past winters of 2003-2004, 1995, 1984, 1976, and 1907-1908. Veterinarians at the International Bird Rescue Center rehab centers are noting that rescued fulmars are responding positively to feeding and sodium supplements as blood chemistry panels revealed that incoming fulmars were sodium deficient (hyponatremia).
Since 1997, trained volunteers have participated in a beach survey program called Coastal Ocean Mammal and Bird Education and Research Surveys (Beach COMBERS). These trained volunteers survey beached marine birds and mammals monthly at selected sections of beaches in central California. In November 2010 volunteers noted a sharp increase in the number of dead Northern Fulmars (abbreviated as NOFU).  Here are some of the numbers of dead NOFU seen over the last 2-3 weeks, listed by beach segment:  Beach 1 had at least 25; Beach 2 had 80-100; Beach 3 had 77; Beach 5a (Pajaro river mouth to Jetty, Moss Landing) had 83; Beach 7 had 247; Beach 8A (Reservation Rd to Indian Head, Fort Ord) had about 155 (mostly fresh); Beach 9 (Tioga Ave. to Fort Ord) had 76; Beach 10a and 10 b (Carmel Beach) had 10, all fresh; Beach 13 (San Simeon Creek, SLO) only had 4. Not much compared to other sites, but this is the first time volunteers had seen any on this beach! Beach 14 (San Simeon St. Beach) none seen; Beach 24 (Del Monte Beach) had 46, all new. Only a few were scavenged. Morro Strand State Beach in Morro Bay had 28; Beach 29 (Morro Bay Sandspit) had 29 but all were very scavenged.
Few necropsies (n = 7) thus far reveal birds in extremely poor body condition. Stomach contents had plastic but no evidence of actual prey.  Most of the birds appear to be young, with withered muscle tissue and lacking fat. Few cases had foot lesions. More results will be posted as they become available.
Northern Fulmars that come to the Monterey Bay spend their summers in Alaska, where they breed and feed, then come down to central CA during the winter, where it is (usually) more benign.
Continued investigations will benefit from timely data and carcass collection, and continued systematic beach surveys. Thanks to the BeachCOMBERS volunteers and local public for collecting and bringing birds to local agencies for rehabilitation, Rosanna Leighton and volunteers at the Monterey SPCA. If you have questions or comments regarding this or other mortality events in central CA area please contact Hannah Nevins (831-212-7218, hnevins@mlml.calstate.edu) or Colleen Young (831-212-7626 cyoung@ospr.dfg.ca.gov) at Marine Wildlife Veterinary Care and Research Center, California Dept. of Fish and Game Office of Spill Prevention and Response, 1451 Shaffer Road, Santa Cruz, Ca 95060.
Author affiliations:
(1) Central California Marine Bird Health Study, California Department
of Fish and Game – Marine Wildlife Veterinary Care and Research
Center, 1451 Shaffer Road, Santa Cruz, CA 95062
(2) Moss Landing Marine Laboratories, 8272 Moss Landing Road, Moss
Landing, CA 95039
(3) International Bird Rescue Research Center, Cordelia, CA