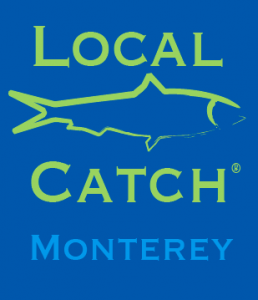 An exciting program is now under development that will be of interest to anyone who loves eating seafood, cares about how marine resources are harvested, and wants to support local food production.  'Local Catch Monterey' will be a community supported fishery (CSF) program for the Monterey Bay area.  A CSF is a seafood version of popular community supported agriculture (CSA) programs.  Customers will prepay for a three-month season of sustainably caught local fish, delivered as weekly shares to pick-up locations.  Around the country, this model has proven to be successful in increasing consumer access to local seafood and in creating new markets for small-scale fishermen.
On September 26, MBNMS staff delivered a presentation on the effort to build a community-supported fishery (CSF) in the Monterey Bay area to Professor Don Croll's undergraduate Marine Conservation Biology class at the University of California, Santa Cruz.  The UCSC class has adopted the CSF effort as a semester-long class project.  Students will work in small groups to help develop several key components of the project, such as creating species profiles and seasonal availability charts.
This collaboration signifies the latest progress in Local Catch Monterey's evolution.  Over 200 individuals have registered their interest in participating and have joined the CSF waiting list on the program's website.  Discussions with potential fish suppliers and processors have occurred in Monterey, Moss Landing, and Santa Cruz, the three Monterey Bay ports providing CSF fishes.  The first CSF season is planned for early 2012.  The project has been featured in articles in Edible Monterey Bay and the Monterey County Weekly, and was featured on the KION TV Evening News on August 10, 2011.
MBNMS staff is supportive of this effort as a means to encourage sustainable uses of sanctuary resources, consistent with the sanctuary's Ecosystem Based Management Initiative.  For more information contact Oren Frey, MBNMS California Sea Grant State Fellow, at (831) 647-4228 or Oren.Frey@noaa.gov.
Links
Local Catch Monterey web site
CSF Article in Edible Monterey Bay Magazine
CSF Article in the Monterey County Weekly