The general public often assumes that scientist have discovered and described all of the plants and animals living along the US west coast. While this may be mostly true for terrestrial organisms, it is certainly not the case for marine organisms. A new science article focused on the taxonomic assessment of the octocorals from the northeastern Pacific Ocean, published in the biodiversity journal ZooKeys, describes the discovery of two new beautiful and colorful species of soft corals.
"It is remarkable that in a region previously thought to be as familiar and well known as the west coast of North America – with its numerous large urban centers and major marine laboratories – revisionary systematics are not only still possible, but essential for our understanding of global biodiversity," comments Dr. Gary Williams from the California Academy of Sciences, author of the study.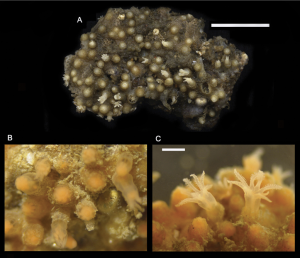 Cryptophyton jedsmithi is the new species described by Dr. Williams and was collected by marine biologist Dr. Jeff Goddard in San Diego County, San Diego, Point Loma, on 12 February 2006.  Goddard found the octocoral under a boulder in the low rocky intertidal zone. The species is named for Jedediah Strong Smith, American trailblazer and cartographer, who explored vast regions of western North America between 1822 and 1831, and along the Pacific Coast, including San Diego in December of 1826 (Brooks 1977) – the area of the type locality of the new species.
The second species is Chromoplexaura marki. In this case, Dr. Williams determined that what we thought was Euplexaura marki was in fact a new, but related genus.  He examined material from Monastery Beach just south of Carmel, collected at 38 m depth, 20 May 1962; Carmel Bay (Monterey Bay National Marine Sanctuary) at 32 m depth, 22 September 2010;  and from Rittenburg Bank (Gulf of the Farallones National Marine Sanctuary) at 85 m depth, 8 October 2012.
Modified from an article available by RedOrbit at:  http://www.redorbit.com/news/science/1112864167/pacific-ocean-coral-species-genus-discovered-060413/
and information from:
Williams, G.C. 2013. New taxa and revisionary systematics of alcyonacean octocorals from the Pacific coast of North America (Cnidaria, Anthozoa). ZooKeys 283: 15–42.