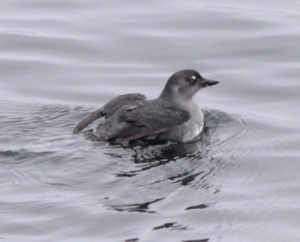 Young seabirds are washing up dead on local beaches, an unusual phenomenon.  One suggestion is that recent high ocean temperatures are causing starvation among young-of-the-year Cassin's Auklets.
The Cassin's auklet is medium-sized for an auklet and rarely comes close to shore. They normally live in the distant open ocean, feeding on small oceanic crustaceans.
In November 2014, large numbers of thin, dying or dead birds were washing ashore on San Mateo County beaches, such as Pescadero's Gazos Creek and Pacifica's Linda Mar. Bodies also have been found on the coasts of Marin, Sonoma and Monterey counties.  The event is widespread along the Pacific Ocean, from Washington to the Mexican border.
A preliminary analysis of the bodies of five young birds by the National Wildlife Health Center concluded that they were in poor or emaciated body conditions, "consistent with a lack of zooplankton," according to Beach Watch, a monitoring project of the Farallones Marine Sanctuary Association and Gulf of the Farallones National Marine Sanctuary.
Calling the phenomenon an unusual mortality event (UME), the Farallones Marine Sanctuary Association is working with state and federal agencies as well as local researchers to document the event and try to determine its scope and cause.
Seabirds like auklets are "indicator species" of the overall health of the marine ecosystem just off our shore, and a UME suggests conditions are poor.
Rare changes in wind patterns this fall have caused the Pacific Ocean off our coast to warm to historic levels, according to scientists. In mid-October, it was 65 degrees off the Farallon Islands and in Monterey Bay; in most years, water temperatures in those areas would be in the high 50s or low 60s. That's because winds aren't pushing away warm surface water and churning up cold water from down below, a seasonal process called upwelling.
The stalled ocean upwelling means that tiny zooplankton, like krill, are not arising from cold depths. A shortage of zooplankton was detected during surveys in September 2014 by the RV FULMAR, a NOAA small boat operating in central California, while conducting a cruise with scientists involved with the Applied California Current Ecosystem Studies.
That's tough for seabirds like auklets, which only eat zooplankton, and especially the young-of-the-year (YOY) born this past spring.
Additional testing is needed to confirm starvation, and scientists want to rule out other possible causes of death, such as bacterial or viral disease.
Local biologists have the following recommendations:  1) the public need not report dead birds, we have dedicated surveys being done, documenting and collecting only what is needed for researching this event; and 2) leave specimens in place for documentation by trained staff.