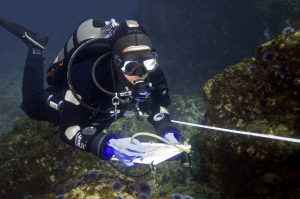 The Reef Check Foundation invites experienced SCUBA divers to become trained in our California rocky reef monitoring program for 2015.
Since 2006, the Reef Check California (RCCA) Program has trained over 1000 experienced recreational SCUBA divers to scientifically monitor California's rocky reef ecosystem at 80+ sites from Humboldt to San Diego counties. Community members play a significant role in collecting key information on the health of rocky reefs and aid in the baseline and long-term monitoring of Marine Protected Areas (MPAs) in California.
There is a Reef Check California training coming to a location near you. Each training will be held over two weekends, with classroom and pool training the first weekend followed by training and testing dives in the ocean the second weekend. The cost of the course is $200-$250 (depending on boat vs. shore dives), which covers dive boat fees, your own underwater survey slate and transect tape, the RCCA Training Manual, and species identification flash cards! This is a great way to learn more about our rocky reefs and their inhabitants and play an important role in supporting marine management in California.
Taking action and becoming a trained Reef Check Diver allows you join a group of dedicated divers from all walks of life who want healthy coastal ecosystems and support science-based decision making.
–Training dates and locations–
Northern/central California:
Fort Bragg: May 16-17 & May 30-31
Santa Rosa: June 13-14 & June 27-28
San Francisco: July 18-19 & July 25-26
Monterey: May 30-31 & June 6-7
San Luis Obispo: May 2-3 & May 16-17
Southern California:
Los Angeles – May 2-3 & May 16-17
Orange County – June 13-14 & June 27-28
San Diego – July 11-12 & July 25-26
Sign up online at this link http://www.reefcheck.org/rcca/training_schedule.php
Contact training@reefcheck.org with any questions.