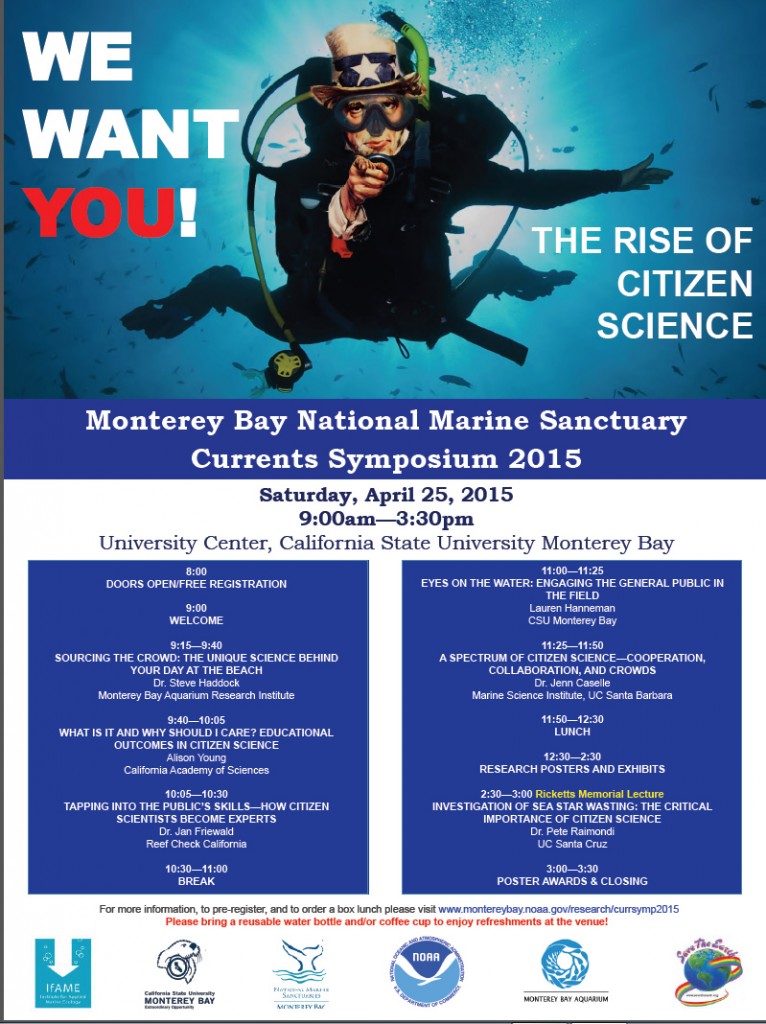 Please save the date and join us….
What: 2015 Sanctuary Currents Symposium — a free event!
When: Saturday, April 25, 2015
Where: California State University Monterey Bay
Theme: "We Want You! The Rise of Citizen Science"
Any management of the marine environment is only as good as the quality (and quantity) of the monitoring data that support it. Traditionally, monitoring of the marine environment was the unique purview of trained academic and government agency scientists. However, with the proliferation of environmental problems, increased awareness of the general public, and the simultaneous decrease in financial support for monitoring at both state and federal levels, the role of citizen scientists is on the rise. Come join us for a lively discussion on what it means to be a citizen scientist. Keynote presentations will focus on topics ranging from programs focused primarily on education to those modeled closely on formal monitoring efforts, from the rocky intertidal to the open ocean. A poster session follows the presentations and an exhibit hall will provide attendees with many opportunities to get involved.
The annual Sanctuary Currents Symposium provides an exciting opportunity to bring scientists, managers, students and members of the public together to address the most important issues of the day with respect to the Monterey Bay and beyond, and this year we are taking on citizen science. Discussions will occur around plenary sessions featuring internationally-recognized scientists, a research poster session, and exhibitry throughout the day.
See attached Flyer for program information. Please circulate and post at your institution.
Additional Symposium information can be found at: http://montereybay.noaa.gov/research/symposium.html
(web site to be updated soon)