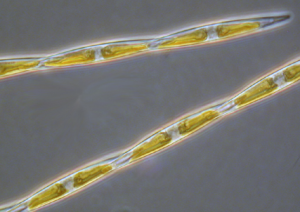 Dr. Raphe Kudela, professor at UC Santa Cruz, said a massive domoic acid (DA) event continues this spring and early summer.
"We had a decrease a few weeks ago, but the mussel sample from the Santa Cruz Wharf increased to 84.6 ppm yesterday (May 27, 2015). Dissolved DA was 21,971 ng/L and pDA was 3,315 ng/L. We obtained anchovy samples from an apparent fish kill at MBARI a few days ago. Total body burden was 197 ppm, with viscera ~1007 ppm."
There is an ongoing research effort (NOAA ECOHAB program) in Monterey that ran the first set of toxin samples from earlier in the month of May, 2015. The values noted in those sample were higher than anything observed in the last decade, approaching levels last seen in the year 2000. "Given the rise in mussel toxicity this week, it appears that, at least for Monterey, the bloom is continuing for at least a while," said Kudela.  Organisms that filter feed (e.g., mussels) likely will have high levels of DA and should not be consumed.  Birds and mammals consuming other organisms with high levels of DA may exhibit signs of amnesiac shellfish poisoning.
Model predictions are available online at:
http://www.cencoos.org/about/news/2014/harmful-algal-bloom-forecasts-now-available
A news story from NOAA:
http://coastalscience.noaa.gov/news/habs/sensor-provides-early-warning-toxic-algal-bloom-offshore-waters-monterey-bay/
June 1, 2015
SACRAMENTO – The California Department of Public Health (CDPH) is advising consumers not to eat recreationally harvested mussels and clams, commercially or recreationally caught anchovy and sardines, or the internal organs of commercially or recreationally caught crab taken from Monterey and Santa Cruz counties. CDPH is working with commercial fisherman in the area to ensure that recently harvested anchovy and sardines were not distributed into the human food supply.
Dangerous levels of domoic acid have been detected in some of these species and are also likely to be present in the other species. Molluscan bivalve shellfish, anchovy and sardines are especially of concern because the toxin resides in their digestive tract and these seafood products are normally not eviscerated prior to consumption.
CDPH is continuing to collect a variety of molluscan bivalve shellfish, fin fish and crab samples from the area to monitor the level of domoic acid.
This warning does not apply to commercially sold clams, mussels, scallops or oysters from approved sources. State law permits only state-certified commercial shellfish harvesters or dealers to sell these products. Shellfish sold by certified harvesters and dealers are subject to frequent mandatory testing to monitor for toxins. Symptoms of domoic acid poisoning can occur within 30 minutes to 24 hours after eating toxic seafood. In mild cases, symptoms may include vomiting, diarrhea, abdominal cramps, headache and dizziness. These symptoms disappear within several days. In severe cases, the victim may experience trouble breathing, confusion, disorientation, cardiovascular instability, seizures, excessive bronchial secretions, permanent loss of short-term memory (a condition known as Amnesic Shellfish Poisoning), coma or death. There have been no reported illnesses associated with this event.
To receive updated information about shellfish poisoning and quarantines, call CDPH's toll-free "Shellfish Information Line" at (800) 553-4133. For additional information visit CDPH's Natural Marine Toxins: PSP and Domoic Acid Web page. www.cdph.ca.gov
From SCOOS.org:  Some species of the marine diatom, Pseudo-nitzschia, can produce domoic acid (DA), a naturally occurring but rare amino acid that is toxic to marine mammals and seabirds, as well as to humans. Affected individuals mostly experience gastrointestinal disorders and neurological problems. One of the primary symptoms, amnesia, led to the naming of the syndrome as amnesic shellfish poisoning (ASP).
Domoic acid was first associated with phytoplankton as a source of the toxin in 1987, when over 100 people were sickened and three died following consumption of DA-contaminated mussels from eastern Prince Edward Island, Canada. In California, DA was first recognized in September 1991 in Monterey Bay, when the deaths of more than 100 brown pelicans and cormorants were linked to DA poisoning. Since then, the toxin has been implicated in other deaths of marine mammals and seabirds between Monterey Bay and San Diego.
At least nine species within the marine diatom genus Pseudo-nitzschia are now known to produce DA. In California, Pseudo-nitzschia australis and Pseudo-nitzschia multiseries are the main toxin producers.