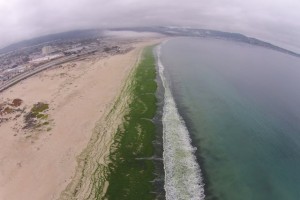 Like the migration of birds and butterflies, there appears to be a new "regular" event occurring in Monterey Bay.  Since 2014, every July heralds the return of sea lettuce to Del Monte and Sand City beaches.   A seasonal bloom of sea lettuce (an alga in the genus Ulva) washes ashore and covers the beaches.  This green seaweed commonly occurs in California but often in lower densities.  
For an unknown reason, in July this thin, bright green alga, which looks somewhat like lettuce, washes ashore and covers local beaches.  When dislodged from the seafloor, Ulva drifts in the water column, and can collect in bays and along the shore.  During the July event, hundreds of meters of sandy beach covered by the green seaweed.  Densities of the green seaweed can be so high, crashing waves appeared green and entire stretches of the beach disappeared under a carpet of green.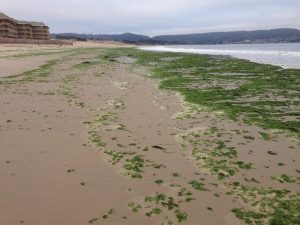 Here are some observations and notes collected by local scientists that are being used to develop an explanation for the phenomenon:
• Thick algal matts of Ulva may not be a normal sign of a healthy open coast beach
• Large algal mats such as this are normally signs of eutrophication (i.e. abnormally high loads of nutrients).  However, measured nutrient levels in the Monterey Bay were low in July 2014 (based on measurements at MBARI's M1 buoy, lowest nitrate for upwelling season in 12 years), which makes for relatively clear water.  In addition, 2014 was a drought year and little run off (i.e. fewer nutrients coming in from agriculture) and there are no active outfalls (storm drain and sewer) in the area during July
• Perhaps this section of the Monterey Bay facilitates this naturally
• There is good photo documentation of this event from on the ground as well as excellent photos from the NPS UAV/drone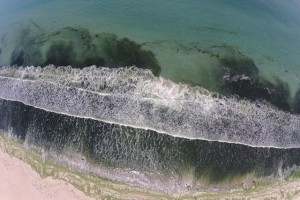 • This phenomenon has occurred in the past, but perhaps not as extensively; perhaps 6 times since 2002
• Ulva also formed a loose, bottom layer in the Monterey Harbor, between Fishermen's Wharf and the Coast Guard Pier; in shallow areas of Moss Landing Harbor; and green floating algae were abundant in fresh water near the Salinas River Lagoon
• There were strong southerly winds in mid July
• July is a period of long daylight hours, which facilitates growth of both algae and plankton
• The area is a low energy (relatively poorly mixed) part of the Monterey Bay in July
• There are offshore shale reefs, where Ulva could grow (and has been seen to grow)
Ulva is an ephemeral species that might grow on reefs that are periodically buried by sand
Ulva is not generally abundant on subtidal reefs
Ulva can grow on soft sediments when in calm water habitats
• Internal waves can reach the shore, as indicated by low oxygen and low pH water, and can provide a transport mechanism from offshore to beach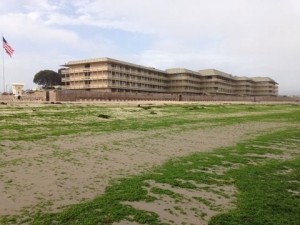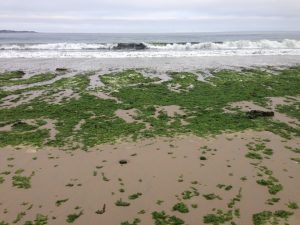 2016 video from the Monterey Herald.
2015 Monterey Herald article click here.
To see a 2014 article in Monterey County Weekly, click here.
2014 local NBC news clip here.
The images below were taken by MBNMS Deputy Superintendent Dawn Hayes on July 22, 2016.