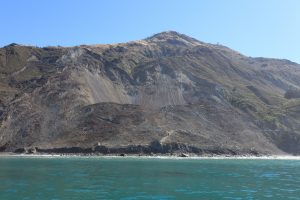 Date:         June 29, 2017
District:   Headquarters, CalTrans
Contact:   Susana Cruz
Phone:     (805) 549-3138
MONTEREY COUNTY – In this CalTrans News Flash, Public Information Officer Susana Cruz travels up scenic, coastal Highway 1 to the site of the recent massive landslide at Mud Creek, located nine miles north of the San Luis/Monterey County line and just south of the town of Gorda.
This landslide, which occurred on May 20, 2017, re-shaped the California coastline with new slide material extending 600 feet out into the ocean, creating 15 acres of new land. This section of Highway 1 now lies under rock and dirt, spanning 1,700 feet of highway. In total, about 75 acres of land were displaced, including the 15 acres out to sea; that's 2.4 million yards of slide debris weighing approximately 4.2 million tons. The slide is currently still active and access is restricted.
A video produced by CalTrans gives an update on the slide.
HIGHWAY 1 ACCESS – Three separate areas of Highway 1 remain impacted by this winter's storms: Mud Creek (Post-mile 8.9 in Monterey Count), Paul's Slide (PM 21.5) and Pfeiffer Canyon (PM 45.5).
From San Luis Obispo County, travelers can drive northbound on Highway 1 to Ragged Point prior to reaching the southernmost closure.
About one mile north of the landslide at Mud Creek, a 10-mile stretch of Highway 1 is accessible to visitors via Nacimiento-Fergusson county road, from the small town of Gorda (PM 10) to Limekiln State Park (PM 20.95). Highway 1 is closed to visitors north of Limekiln due to activity at Paul's Slide.
Areas to the north of Pfeiffer Canyon Bridge are still accessible and remain open to the public traveling from Monterey/Carmel; these areas include Garrapata State Beach, Point Sur and Point Lobos.