Exploring sea life over the spectacular Davidson Seamount: a research cruise in the Monterey Bay National Marine Sanctuary (May 4-13, 2015)
Cruise Blog for Ms. Lebel's 4th grade class at Carmel River School, an Ocean Guardians' School
This blog is just for Ms. Lebel's 4th grade class at Carmel River School! Follow this daily blog as we conduct an eight-day research cruise within Monterey Bay National Marine Sanctuary from May 4-13, 2015. We will be counting dolphins, whales and seabirds with people and remote-controlled airplanes! We'll also be listening to whales underwater, catching deep-sea fishes in nets, analyzing DNA from the ocean, and measuring the temperature and saltiness of the ocean at many different depths! All of this research will be taking place on a big NOAA research ship, called the Bell M. Shimada. Eventually, a video about this whole project will be produced for everyone to watch!
If you have any questions during the cruise, please send them to chad.king@noaa.gov, and we'll try and answer them here!
Where is the Shimada now? (live map)
Day 7 – May 11, 2015
Hey kids!
Today we trawled up lots of mid-water fishes over the Davidson Seamount. These incredible hauls will help us understand changes in the environment and into the future!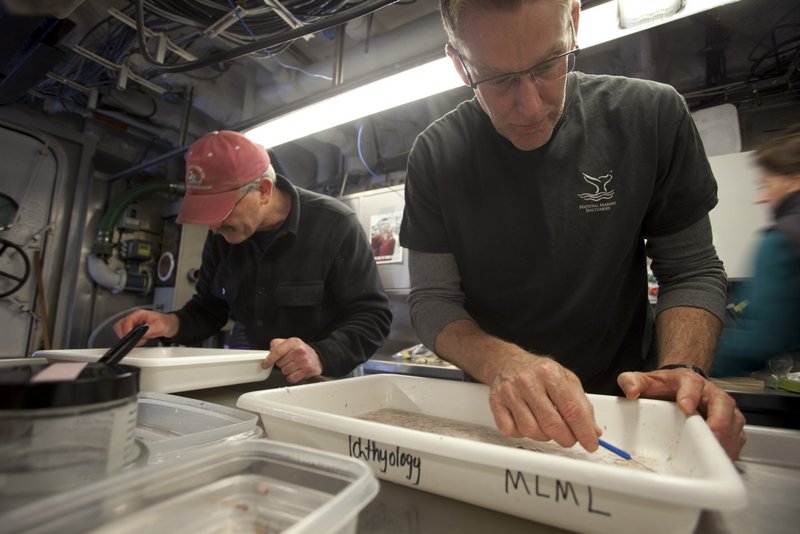 We also have a scientist on board that is taking water samples and filtering out any DNA left in the water. She'll take this DNA back to the lab and other scientists will create more copies of the DNA so that there is enough to detect what is there. Then, they will compare the DNA that they find with known DNA patterns in a huge computer library. Any matches indicate that species was in that sampled water in the last couple of days. As animals swim through, they leave behind different cells in the water. Each cell in your body, as well as all living things, has DNA in them. It's amazing science that was science fiction just 20 years ago! It's like "CSI: Davidson Seamount."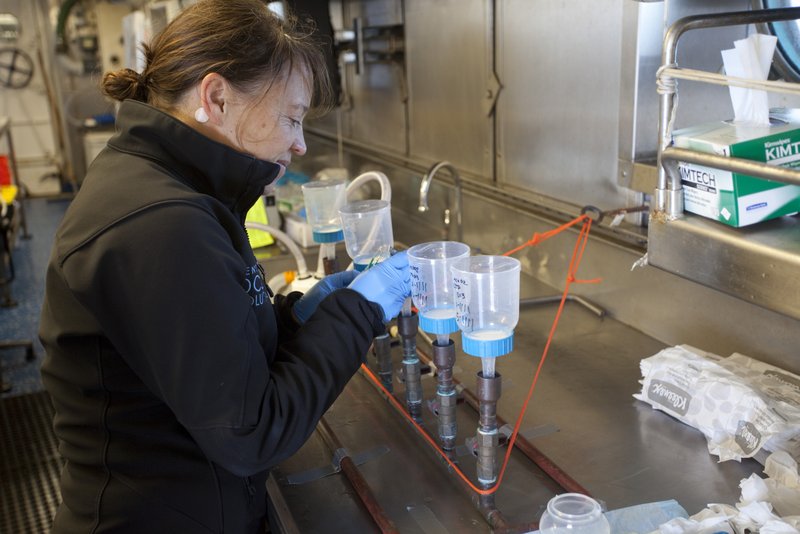 We are now back inside of Monterey Bay doing more CTD casts and more fish trawls, which will continue through the night and tomorrow before we finally head home, arriving in San Francisco on Wednesday morning.
We're almost done!
Chad
====================================
Day 6 – May 10, 2015
Hey kids!
I hope you were nice to your mothers today and made them happy on their special day!
We got a LOT of research done today! We are now operating with two science crews, 24 hours around the clock. Early this morning we cast CTDs to measure ocean conditions, then completed nine trawls of fishes and found some fascinating creatures from the deep. Not only that, but all of the species that we are discovering have never been found here at Davidson Seamount because no one has looked for them here. That means that this research will be extremely valuable to researchers in the future when they want to compare fishes from today with fishes from say, 100 years from now at the Davidson Seamount. Any differences could help explain what may happen to ecosystems in the future and whether it's natural or perhaps, if humans have changed them. Below is a "Viperfish," which looks mean, but is only a few inches long.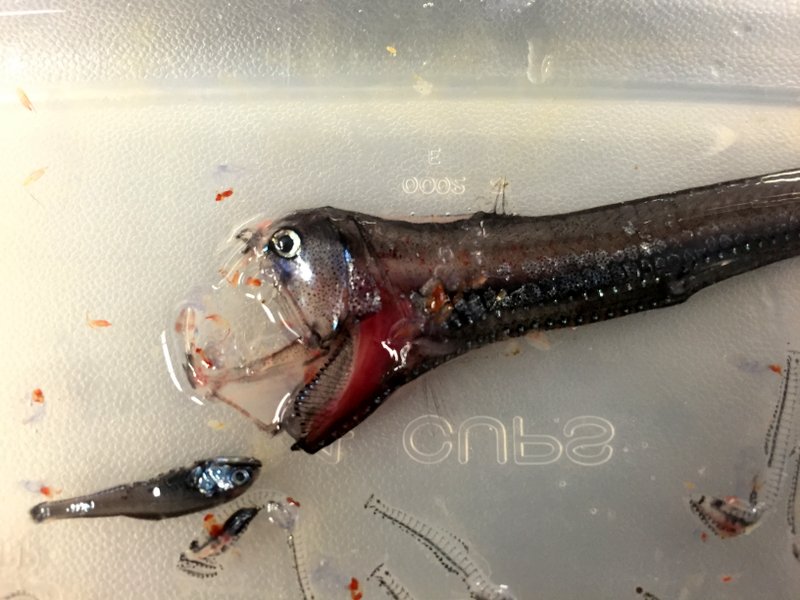 Although these first trawls are great for future researchers (maybe even you?), we also are comparing fishes that we find over the seamount to those found away from the seamount. We hypothesize that the seamount could be re-directing currents, bringing more nutrients (food) to the waters above, which then feeds more animals, making them grown in numbers and eventually feeding the larger animals like whales, dolphins, and birds.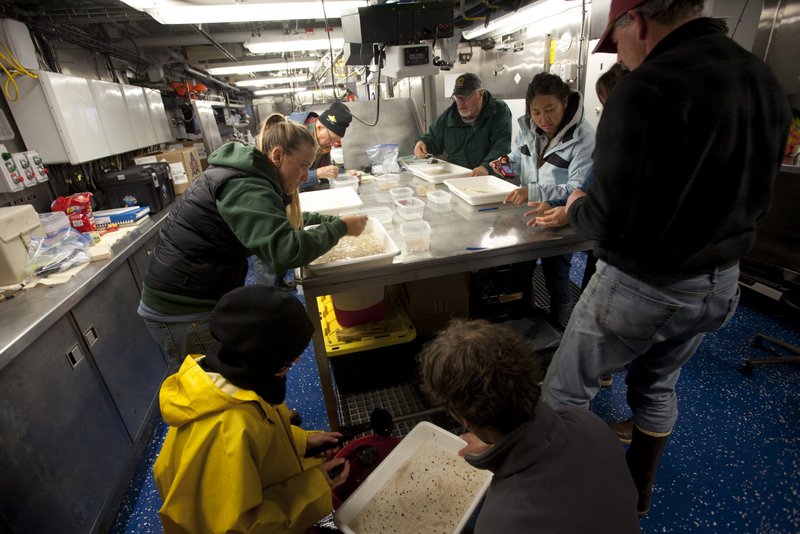 The wind is getting stronger tonight, so we are going to slowly move towards Monterey Bay where we can do more research in calmer waters. Calmer seas will also help us not drop ice cream on the lab floor!
Oh, by the way, here's our little invertebrate mascot from today:
Chad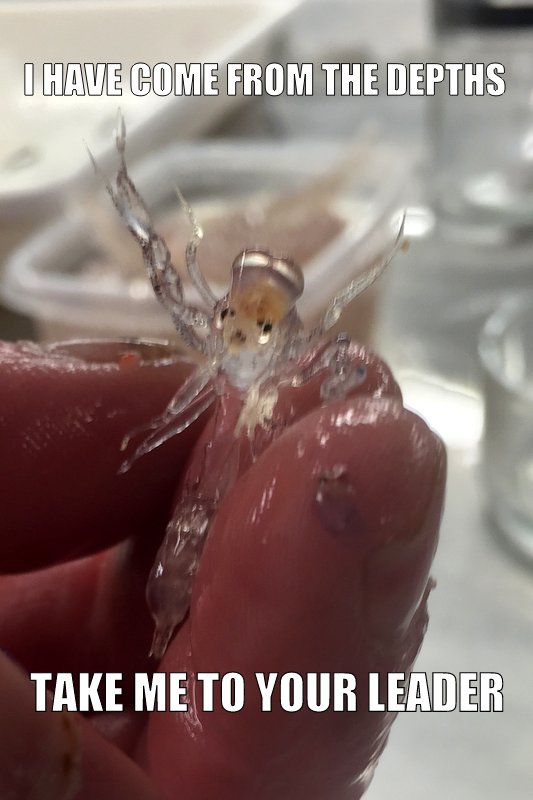 =====================================
Day 5 – May 9, 2015
Hey kids!
Today we pulled into Monterey Bay and transferred the marine mammal and seabird scientists off and fish scientists (called "ichthyologists") on. We did this with a much, much smaller Santa Cruz Harbor Patrol boat. It ferried people to and from the Shimada and the Santa Cruz wharf.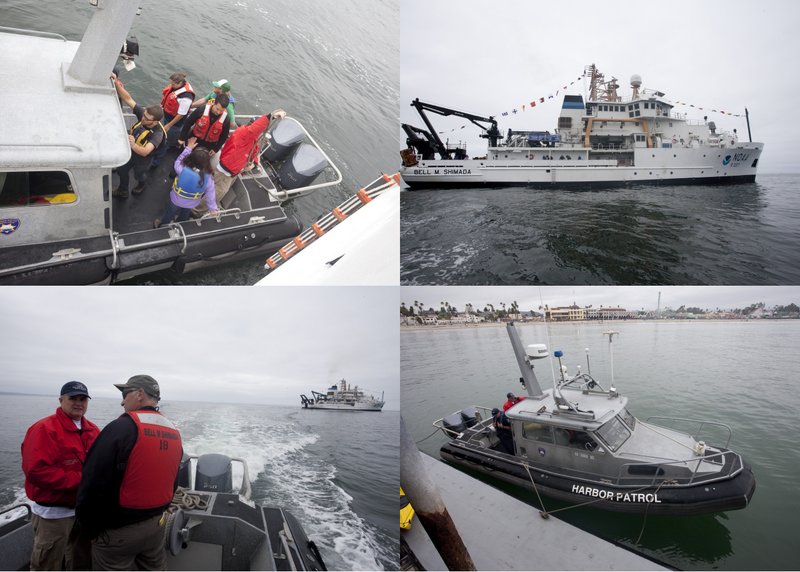 Our chief scientist, Andrew DeVogelaere, gave a presentation at the Sanctuary Exploration Center (you really should check this place out…it's free, too!), was interviewed by a TV reporter, then got back onto the Shimada.
We took the ship a few hours southeast back to Sur Ridge, where we deployed a CTD to take more measurements of temperature, salinity and oxygen down to 500 meters. Afterwards, the new ichthyologists were excited about the first trawl for fishes! The trawl, which is a very big net that funnels everything in its path down to a small barrel, was sent down to 500 meters. It came back with a treasure-trove of fishes, along with krill, jellyfish, and many other invertebrates.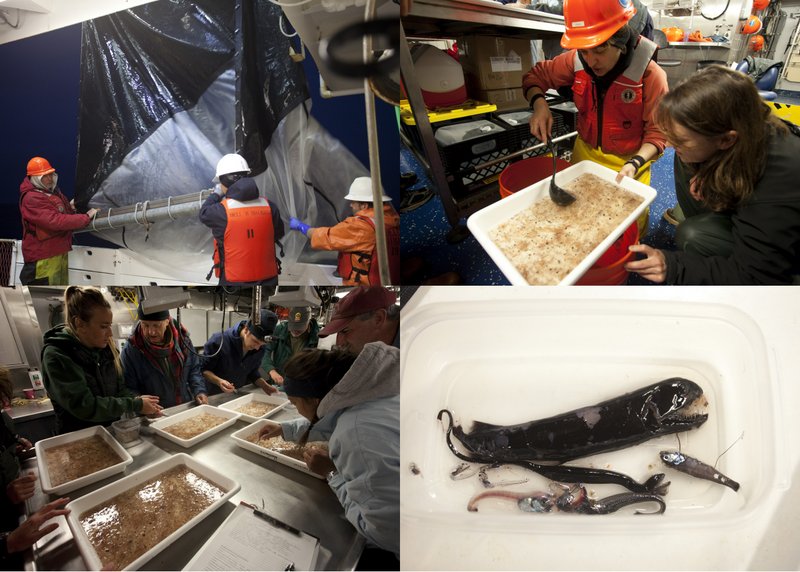 Now, we are headed back to the Davidson Seamount, where we will cast more CTDs and trawl for more fishes throughout the day. Expect many more photos of scientists in action and fishes that you've probably never seen before!
Chad
===============================================
Day 4 – May 8, 2015
The weather has calmed down a lot out here, but not enough to fly our UAS, or remote-controlled airplane, that was to be used to see whales from the sky. We did, however, see many more birds (see pictures below), including a rare Hawaiian petrel. A fin whale was seen (pictured below the birds), as were Pacific white-sided dolphins and even a blue shark.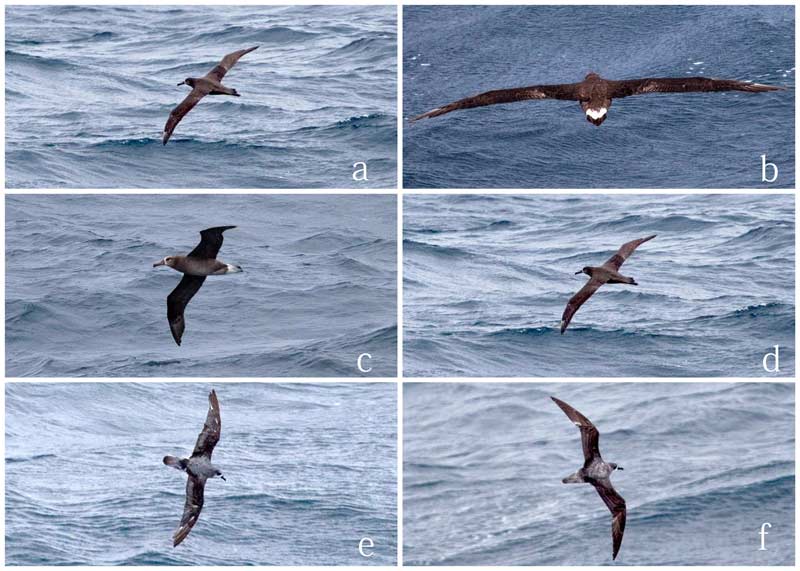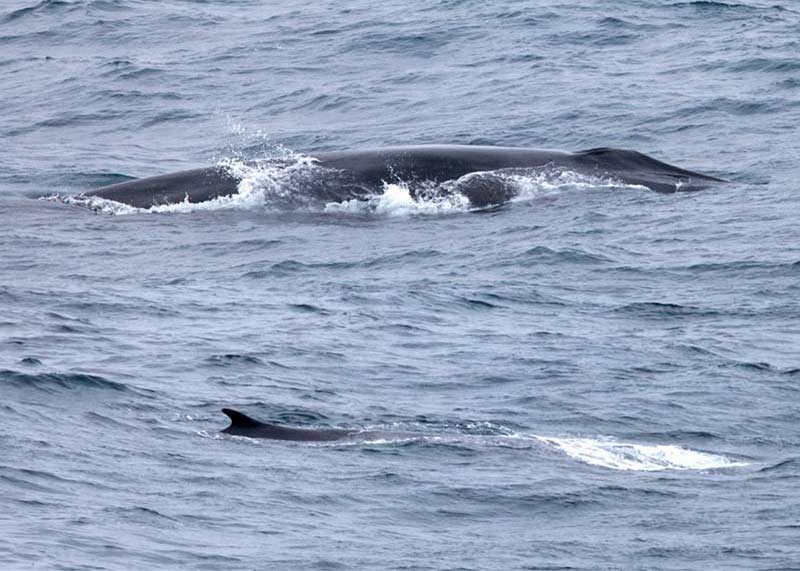 Earlier this morning, we put a large and expensive piece of equipment, called a CTD, into the ocean above the Davidson Seamount, down to 1,000 meters, which is more than 3,300 feet, or more than a half a mile! This instrument measures depth, salinity (saltiness), temperature, and how much oxygen is in the water. Salinity goes up with depth, and temperature gets closer and closer to freezing the deeper you go. However, look at the graph below: oxygen (the blue squiggly line) goes down to small amounts between 600 and 800 meters, but then rises again as you go deeper. Why is that?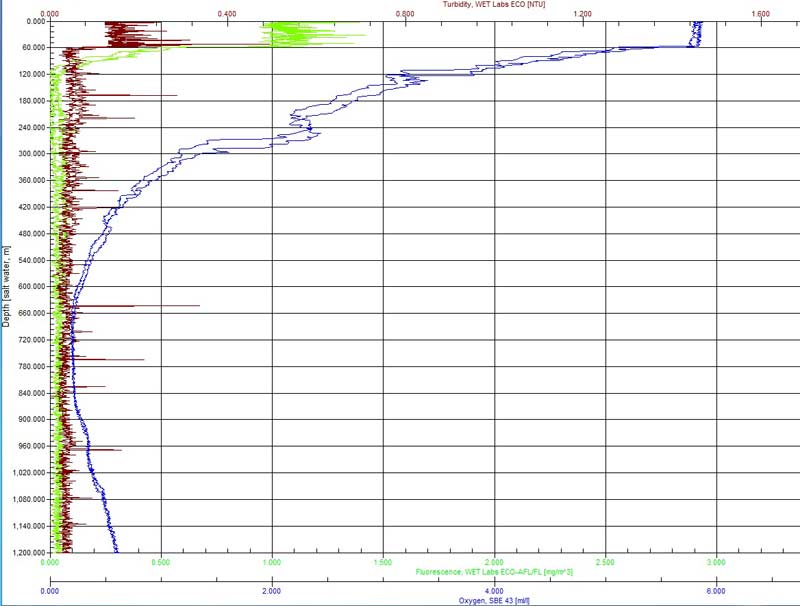 Well, bacteria in the ocean need oxygen as part of their process in eating all the organic matter that floats down from above (dead things, sloughed off skin and fish scales, molted shells, even poop!). Oxygen from the air mixes with the ocean, so near the surface, there is lots of oxygen, but as you go deeper, less and less oxygen gets mixed and soon, those bacteria are using more oxygen to eat than is being supplied. Animals in this "oxygen minimum zone" have adapted to live with lower levels of oxygen. It's a fascinating zone.
Tonight we head to Santa Cruz, but on the way, we'll use the CTD again over Sur Ridge, a special place where we recently discovered a lot of long-lived and rare corals. Tomorrow we will be switching out many of the scientists and having a question and answer session at the Sanctuary Exploration Center in Santa Cruz. You, your friends, and your family are invited to attend! It all starts around 10 AM.
The Monterey Bay National Marine Sanctuary would like to send a big "thank you" to the leg 1 scientists, most of whom will be departing tomorrow (pictured below).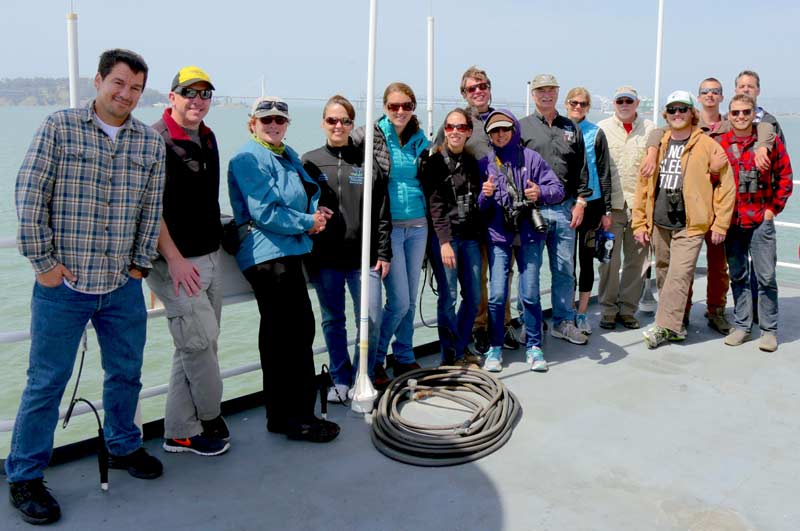 Chad
=============================================
Day 3 – May 7, 2015
Hey kids! The weather was rough again today, but we managed to see a whale and a few dolphins, among the many seabirds! We also recovered the remaining two underwater microphones, and after we got them aboard, one of the scientists downloaded the data and started to listen to what was recorded. He recognized one of the recordings as a fin whale! In fact, I've put the recording below for you to hear! You have to listen carefully, as it's a low rhythmic percussive sound, and this is distinct to the fin whale. This tells us that even though fin whales haven't been seen, we know they're around!
Audio recording of a fin whale from May 7, 2015. The audio has been sped up 5 times. It has a distinct repetitive percussive sound. (Courtesy of David Cade, Stanford)
And here's what a fin whale looks like:
We're going to try and fly the remote-controlled airplanes tomorrow, but if the weather is too rough, we won't be able to. However, I will leave you with this image of the amazing ice cream freezer on the ship! Yes, we can have as much as we want! (Although, that's not a good idea if you get seasick).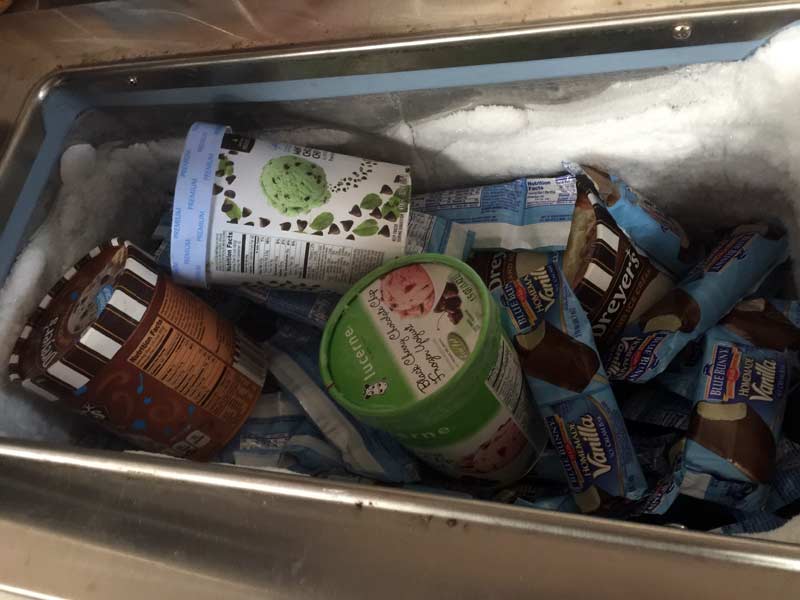 Chad
======================================
Day 2 – May 6, 2015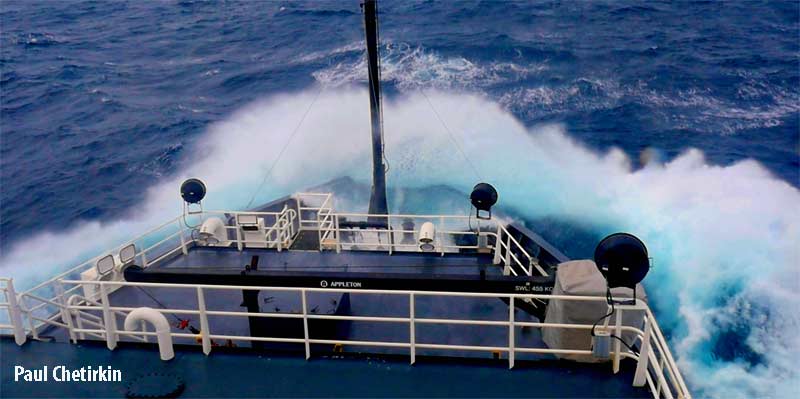 The crew was rocked violently in their bunks all night long as huge 15 foot waves pummeled our ship throughout the night, making sleep almost impossible. Think if someone rocked your bed hard back and forth and up and down all night long. I don't think you'd get much sleep, either!
So, with weary eyes and a lot of coffee and tea, we started our day of science by putting three underwater microphones, called hydrophones, into the water between 2:30 and 8:30 AM. All three were put in separate locations northwest of the Davidson Seamount. Computer models predict that the hydrophones will drift south over the seamount itself, where we expect to see more whales and dolphins. However, the GPS unit (that tells us where it is) failed on one of the hydrophones. We used the VHF radio signal to find it and pull it aboard before it went out of radio range.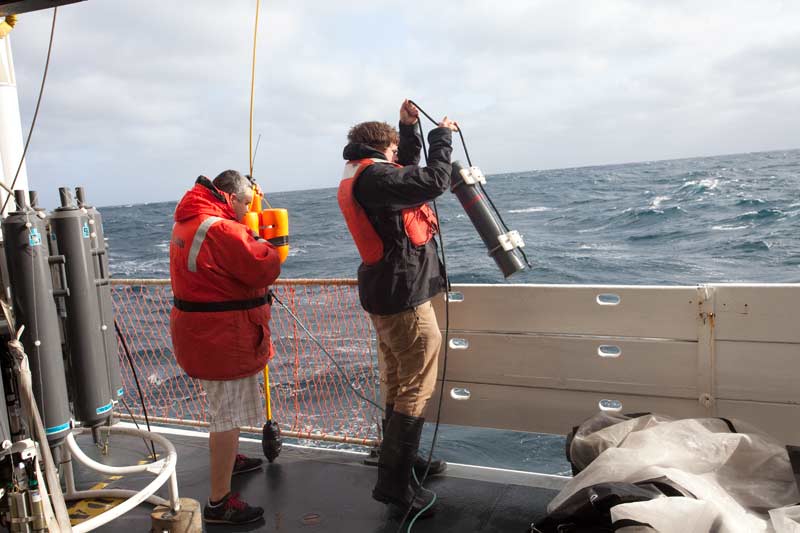 Our marine mammal and seabird observers didn't see any whales or dolphins, but we didn't expect to see much when the ocean was full of whitecaps and large waves as far as the eye could see. We did see eight species of seabirds, including different types of petrels, albatrosses and shearwaters.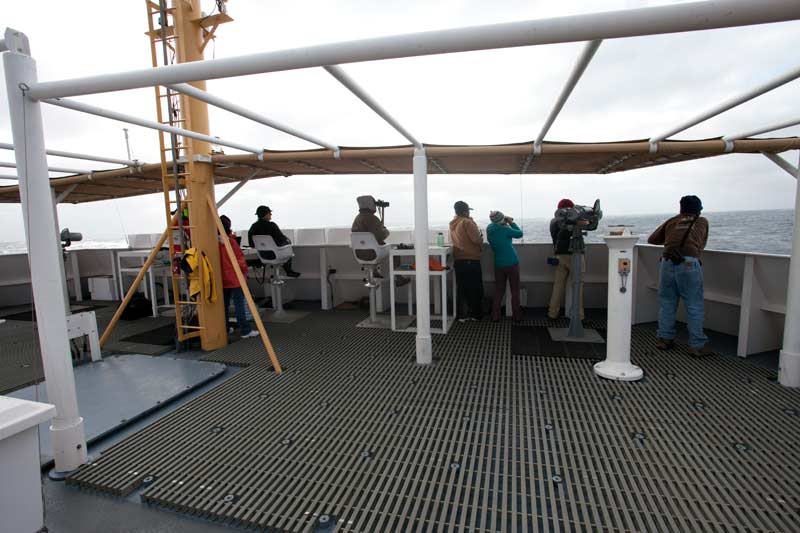 The ocean is not supposed to calm down tomorrow, and in fact, should get worse. We may not see any marine mammals or even fly our plane until Friday, the last day of this leg, when it's predicted to calm down a little bit. We are taking our lumps from Mother Nature!
Chad
==========================
Day 1 – May 5, 2015
Hey kids, we finally left on our exciting research expedition this afternoon! Yesterday, we loaded our vessel, the Bell M. Shimada with thousands of pounds of research equipment and 38 ship and science crew. After sleeping on the ship last night while still docked, the scientists were busy today making the final preparations on all of their equipment.
Now, I'm sure some of you don't like long car rides, but talk about a long boat ride, it will take us about 14 hours to reach the Davidson Seamount! Fortunately, we have lots of ways to keep us busy on the ship while we cruise south. Aside from work, crew can watch satellite TV or a movie, exercise in the gym, sleep, read, eat, or even grab any flavor of ice cream that they want!
Early tomorrow morning, before the sun rises, we will be putting three hydrophones into the ocean. These are basically underwater microphones that will listen for noises made by whales and dolphins. These calls are how whales and dolphins talk to one another! Later, we can figure out where the sounds were coming from, and even who made them, as many calls are distinct to a species.
After sunrise, our trained marine mammal and seabird observers will go up to the top of the ship, which is really high off the water, and use special binoculars to view and record any marine mammals and birds we see on both sides of the ship. We think that we'll see more whales, dolphins and birds over the Davidson Seamount than away from it. That's because this tall underwater mountain deflects deep sea currents towards the surface, bringing with it nutrient-rich water, which feeds the plankton, then the zooplankton, then larger animals, and finally the marine mammals and birds! We also will launch a remote-controlled airplane that has a camera in its belly. We will use the camera to view, identify and record any whales and dolphins that we see from the sky and can later compare it to what we heard and saw using the other two methods.
Most of the work in this type of science is observation, meaning we will simply observe what is happening around us and write that down. We can use that information to form hypotheses, or ideas about why something is happening.
We hope to have a great day of research tomorrow! I'll leave you with this wonderful photo taken this afternoon after we sailed under the Golden Gate Bridge and out into the Pacific!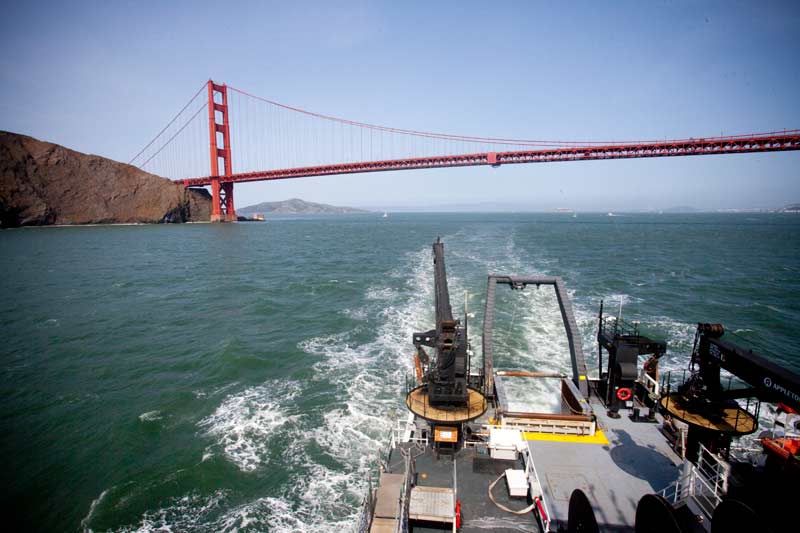 Remember, if you have any questions, you can email them to me at chad.king@noaa.gov and I'll do my best to answer them!
Chad
April 27, 2015
We are exactly one week away from boarding the NOAA ship Bell M Shimada in San Francisco, and boy is there a lot of preparation that goes into a cruise like this! We are in the last throws of receiving science equipment, calibrating sensors, confirming truck rentals, scheduling forklift operators, finalizing cruise instructions and media relations, developing bios and cruise blogs such as this one, and many, many mundane tasks that are necessary to pull off a research cruise with so many moving parts and people.
You can read more about the background of this project on our project background page. But, that might be a little boring for you guys, so our chief scientist has put together this great cartoon to better explain what we'll be doing on this cruise!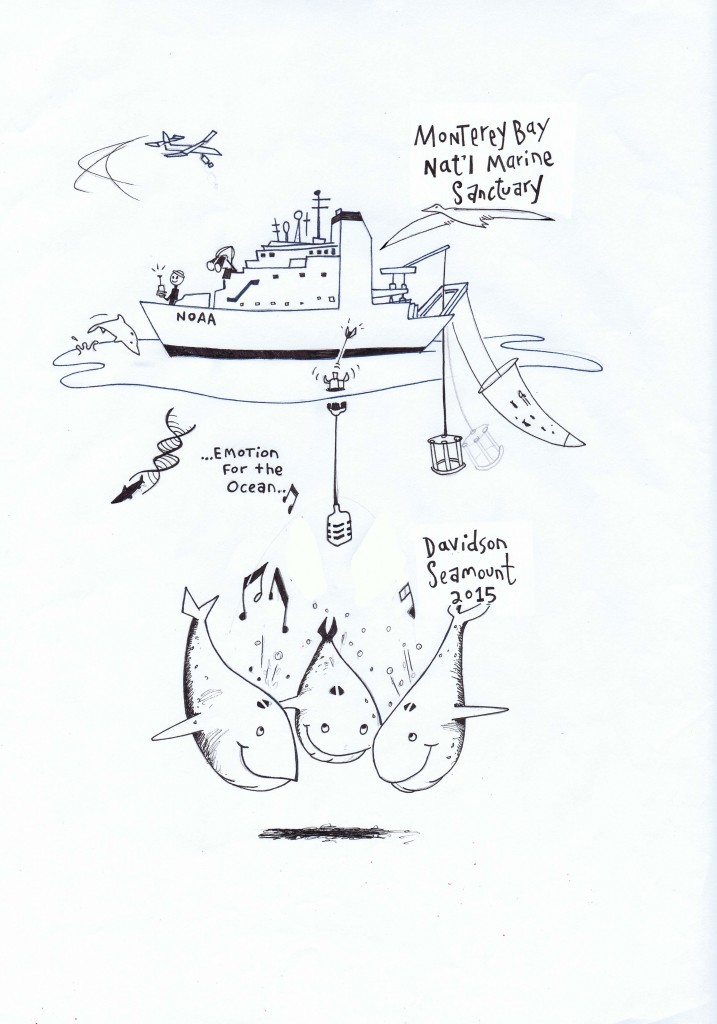 Until then, follow along daily between May 4 and 13…this should be an exciting expedition!
– Chad