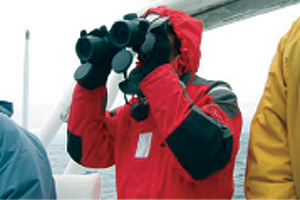 FACTS
May 3, 2005 a pod of orcas were witnessed repeatedly approaching a pod of humpback whales.
The Humpback whales charged the orcas, causing them to veer away when approaching.
This interaction between orcas and humpbacks is rarely witnessed.
On May 3, 2005 observers aboard the R/V John Martin participating in a CIMT Wind-to-Whales cruise observed an interaction between a pod of orcas (Orcinus orca) and humpback whales (Megaptera novaeangliae). This 'stand-off' between the two species of marine mammals is rarely witnessed.
Link to More Information
CIMT Cruise Summary of Incident (PDF) http://cimt.ucsc.edu/Cruise Summaries/W2W_May_sighting.pdf