Overview
Beaches are one of the most visible and popular habitats in California, and the Channel Islands has spectacular beach habitat. Beaches on the islands can be relatively long, or very small pocket beaches, surrounded by rocky reef or cliffs on both ends.
A  beach's constantly moving sand creates a dynamic, rich and productive intertidal habitat. In fact, thousands of mobile animals live along every foot of the shoreline. There are two main sources of organic material for beach food webs: microscopic phytoplankton (which nourish filter feeders) and drift seaweeds from nearby kelp beds and rocky reef algal communities.
Photo Library
No photos are currently available for this section.
Map Repository
Shoreline type along the central California coastline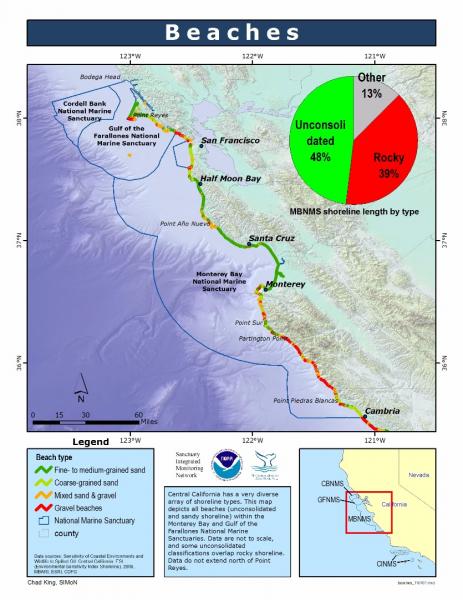 Central California has a very diverse array of shoreline types. This map depicts all beaches (unconsolidated and sandy shoreline) within the Monterey Bay and Gulf of the Farallones National Marine Sanctuaries.
[View Larger]
Project Database