Overview
Intertidal zones consist of a variety of coastal habitats periodically covered and uncovered by waves and tides. This transition zone between sea and land is the strip of shore ranging from the uppermost surfaces wetted during high tides to the lowermost areas exposed to air during low tides. Tidal heights within the Channel Islands can be as high as 9.9 feet during full or new moon periods. On surf-swept rocky cliffs, the wave splash can extend water upward of another 17 feet or more.
Intertidal habitat within the sanctuary is composed of approximately 94.5 miles of rocky coastline interspersed with approximately 47 miles of sandy beaches (California Resources Agency, CDFG 2002). Rocky shores support a rich assortment of plants and animals, including numerous green, brown, and red algae, as well as beds of surfgrass. A wide variety of sedentary invertebrates, including barnacles, limpets, and mussels compete for space with the plants in the intertidal zone. Mobile invertebrates, such as snails and crabs, often hide in crevices or under rocks, then emerge to graze on plants or prey on other animals. These intertidal organisms withstand varying degrees of wave shock, dramatic temperature changes, desiccation, and predation by both marine and terrestrial predators.
Fishes in intertidal habitats are limited to tidepools or passing through the intertidal zone at high tide. Seabirds forage in the intertidal at low tide while some roost in aggregations on cliffs just above the shore. Seals and sea lions depend on many of the sanctuary's intertidal shores for hauling out, especially at San Miguel and Santa Rosa Islands.
Photo Library
No photos are currently available for this section.
Map Repository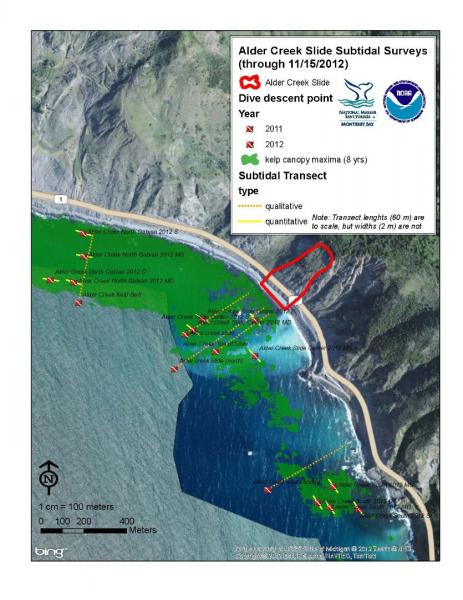 Alder Creek slide subtidal surveys (through 11/15/2012)
Alder Creek slide subtidal surveys (through 11/15/2012). Update through 2014 to come.
[View Larger]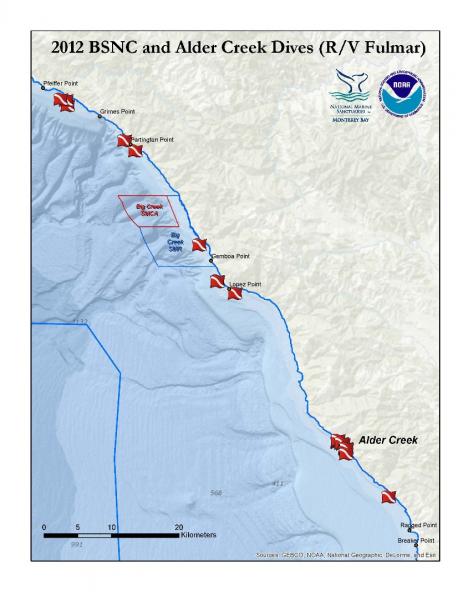 2012 Big Sur Nearshore Characterization and Alder Creek Dives
Mapped locations of 2012 Big Sur Nearshore Characterization and Alder Creek Dives. BSNC dives are conducted annually. Alder Creek from 2012-2014.
[View Larger]
Project Database