Overview
The diverse geologic features of the Monterey Bay National Marine Sanctuary are controlled by dynamic processes that can significantly influence ecosystems and habitats. For example, natural hazards such as earthquakes, erosion and submarine landslides play an important role in shaping the coast and seafloor.
These shifts in the sanctuary's geologic character can affect both the location and size of habitats for many marine plant and animal species. Therefore, mapping geologic features and understanding the processes that shape them is essential to recognizing and interpreting change in the sanctuary.
The San Andreas Fault System traverses the sanctuary in a northwest-southeast direction and controls much of the overall geologic character of the region. This series of sub-parallel faults forms the boundary between the Pacific and North American tectonic plates, the former of which is sliding northwest several centimeters per year relative to the latter. In the vicinity of the sanctuary, the San Andreas Fault System is comprised of:
the San Gregorio Fault (which extends from Monterey to Half Moon Bay and is predominantly offshore)
the Monterey Fault Zone (which extends over a wide area from Monterey to Santa Cruz within Monterey Bay)
the San Simeon Fault (near San Simeon)
the infamous San Andreas Fault (which is almost entirely onshore in this region, with the exception of a segment extending from Mussel Rock to Marin County)
Movement along these faults causes earthquakes and helps to shape the surrounding landscape: coastal mountains are thrust upwards, submarine canyons are channeled and underwater landslides are triggered.
A recent study by the United States Geological Survey (USGS) determined that there is a 62 percent chance of a magnitude 6.7 or greater earthquake occurring on one of the faults in the greater San Francisco Bay Area between 2003 and 2032. In this time period, there is a 10 percent chance of a magnitude 6.7 or greater earthquake on the San Gregorio Fault and a 21 percent chance of a similar earthquake on the San Andreas Fault.
Monterey Bay, one of the sanctuary's most prominent features, formed as wave action and sea-level rise eroded weaker rocks and sediment of the inner bay, while the stronger sedimentary rocks of Santa Cruz and the granitic rocks of Monterey resisted erosion and became headlands. The concave structure of Half Moon Bay and San Simeon Bay formed in the same manner, with only one defining headland.
Monitoring
Important focus areas for monitoring efforts in the sanctuary include coastal erosion, the continental shelf and submarine canyons.
Coastal Erosion
A significant amount of development and infrastructure is threatened by coastal retreat, and coastal erosion can impact habitats, such as kelp forests and bird nesting grounds on beaches. Highlights from recent studies of coastal erosion in this area are described below:
In areas with high coastal cliffs, such as Big Sur, USGS research has shown that erosion rates are well correlated with local rock types and that cliffs are eroding at an average rate of 18 centimeters per year, mostly through large, episodic landslides. These landslides transfer an average of 21,000 cubic meters (741,608 cubic feet) of sediment per kilometer (0.62 miles) of Big Sur's coastline to the nearshore zone every year. The sanctuary has teamed with the Partnership for Interdisciplinary Studies of Coastal Oceans (PISCO) and others to study the effects of this sediment load to the organisms that live below the staggering cliffs of Big Sur.
Over the past 120 years, beaches have been eroding at approximately 0.2 meters (.06 feet) per year (from San Francisco to Monterey). Maximum erosion rates (1.8 and 1.3 meters per year, respectively) were documented just north of Point Antilde;o Nuevo and at Indian Head Beach in southern Monterey Bay. Overall, erosion rates appear to be increasing from the long-term (within the past 120 years) to the short-term (within the past 30 to 50 years).
Most erosion (landslides, beach erosion, cliff erosion and other coastal processes) within the sanctuary happens during severe El Niño winter storms, when wave power is strong and rainfall is high. For example, the tops of cliffs were found to have retreated 13 meters over the 1997-1998 El Niño winter in Pacifica, where 12 coastal homes were condemned because of cliff erosion.
An eight-year study by UC Santa Cruz (UCSC) researchers and others found that coastal protection structures, such as riprap or sea walls, had some seasonal impacts to the structure of beaches; however, there were no significant long-term effects on beaches due to waves interacting with riprap or sea walls.
The Continental Shelf
Another important geologic feature is the continental shelf, the shallowly-dipping, submerged extension of the continent that extends to approximately 120 meters' water depth and varies greatly in width along the length of the sanctuary. The shelf is covered with mud, sand, gravel and rocky outcrops that provide ecological niches for marine species.
Mapping the shelf's geology and characterizing how it changes over time is essential to understanding sanctuary habitats. Because of the expense and technical challenges of underwater mapping, this research often requires collaboration among several organizations, including the USGS, the Monterey Bay Aquarium Research Institute (MBARI), California State University Monterey Bay (CSUMB), Moss Landing Marine Laboratory (MLML), UCSC and others.
Examples of continental shelf mapping projects in the region include the following:
Researchers from USGS and other organizations published a GIS-based map and database that show geologic interpretations of the continental shelf from Point Año Nuevo to Point Sur, derived from acoustic imagery of the seafloor and geologic samples. Much of the middle continental shelf is covered with fine-grained sediment, while the regions closer to shore and at the edge of the continental shelf are generally rocky and/or are dominated by coarser-grained sediment (e.g., sand or gravel).
On a smaller, more detailed scale, USGS researchers are conducting nearshore mapping at Pleasure Point in Santa Cruz. Obtaining accurate maps of the seafloor close to shore is challenging because of intense wave action and variability in bathymetry. The USGS group is using a variety of advanced mapping techniques to provide resource managers with important information on the structure of the nearshore seafloor and coastal cliffs.
USGS has also spearheaded a major effort to gather diverse geologic data about the continental shelf and organize it through a GIS database. This project, called usSEABED, provides unprecedented coverage of the sediment and rock types sampled from the seafloor as well as a searchable catalog of other observations, such as micro and macro flora and fauna and sedimentary structures.
Submarine Canyons
Within the center of Monterey Bay is the Monterey Submarine Canyon, the largest of a set of canyons that dissect the continental shelf, delivering huge sediment loads via turbidity currents down the continental slope to the abyssal plains of the deep ocean. The Monterey Submarine Canyon is comparable in depth, gradient and length to the Grand Canyon of Arizona; it constitutes a unique deep-water habitat relatively close to shore.
Other large canyons in the area include:
Pioneer Canyon (offshore of Half Moon Bay)
Ascension, Año Nuevo and Cabrillo Canyons (offshore of Davenport)
Carmel and Soquel Canyons (which feed into Monterey Canyon)
Sur, Partington, Mill Creek, and Lucia Canyons (offshore of Big Sur)
Measuring the sediment-laden currents that carve these canyons is a difficult task because of the episodic nature and immense size of the flows. Researchers have successfully documented turbidity currents in recent years, as described below:
MBARI researchers measured a large turbidity current that carried an estimated 2,200,000 cubic meters of gravelly sediment approximately 550 meters down the Monterey Submarine Canyon. Instrument packages deployed in the canyon were dislodged by the event, and their recovery allowed the scientists to estimate the scale of the turbidity current. The researchers believe that high wave conditions set off the current, indicating that sediment gravity flows do not require exceptional triggering events such as earthquakes.
USGS recently documented the first ever in-situ measurements of velocity profiles for turbidity currents in Monterey Submarine Canyon. The maximum along-canyon velocity of a turbidity current was 190 centimeters per second, which is equivalent to 4.25 miles per hour. The currents were generally confined to within 50 meters of the seafloor, and as they moved down the canyon, their heads moved closer to the canyon floor. All of the turbidity current events recorded during this study occurred in winter and may have been triggered by large storm waves and high stream flows from the nearby Salinas River.
Photo Library
Below is a sampling of related images found in the SIMoN Photo Library. Click or tap on an image for more details.
Map Repository
Shoreline type along the central California coastline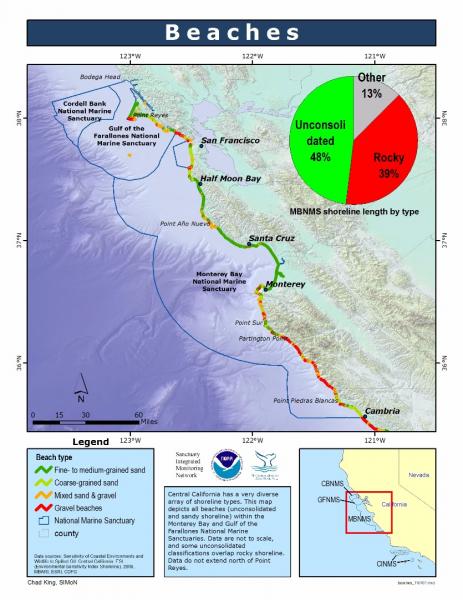 Central California has a very diverse array of shoreline types. This map depicts all beaches (unconsolidated and sandy shoreline) within the Monterey Bay and Gulf of the Farallones National Marine Sanctuaries.
[View Larger]
2012 Big Sur Nearshore Characterization and Alder Creek Dives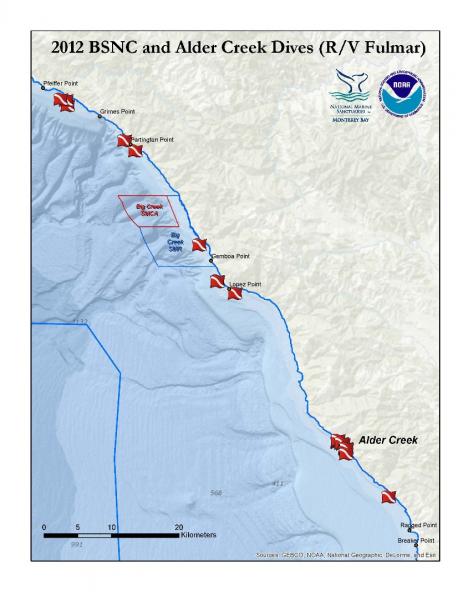 Mapped locations of 2012 Big Sur Nearshore Characterization and Alder Creek Dives. BSNC dives are conducted annually. Alder Creek from 2012-2014.
[View Larger]
Mixed Soft Habitat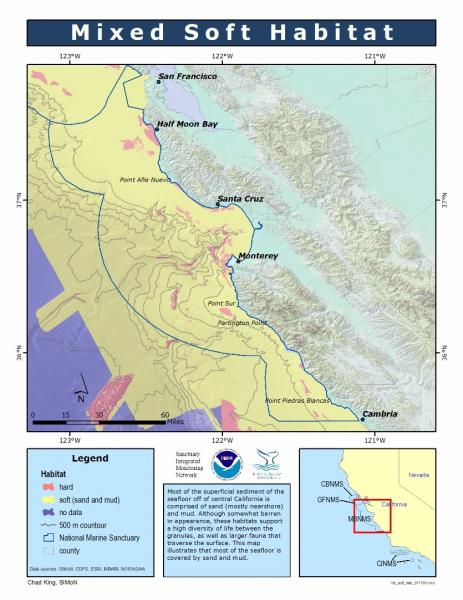 This map shows the distribution of habitat type (hard vs soft) throughout MBNMS. Published in 2008.
[View Larger]
Project Database